Oscar Eye: Predicting The Winners After The Critics And Globes Had Their Say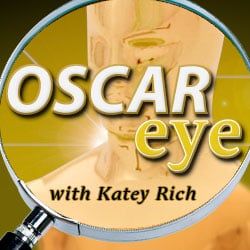 Note: if you're interested in some slightly out-of-date Oscar conversation, head over here and listen to a podcast I recorded last week with The Film Experience's Nathaniel Rogers and Low Resolution's Joe Reid. It's a fun chat and we'll be doing more as the season goes on. Looking at my Oscar column from last week, it's hard to believe I was ever so young... so doubtful about the quality of Avatar, so convinced of Up in the Air as the potential runaway favorite, so certain that Matt Damon's Invictus performance would quickly be forgotten.
It's been a very big couple of days in the Oscar prognosticating biz, and let's start with the big one: the Golden Globe nominations. As always, the Hollywood Foreign Press Association made some whackadoo choices sure to not make it through to the Oscars-- Tobey Maguire for Brothers, A Serious Man shut out of screenplay, Julia Roberts for Duplicity-- but coming on the heels of the weekend's critics awards, it gives us a lot to think about. The Globes' Best Drama nominees of Avatar, The Hurt Locker, Inglourious Basterds Precious, and Up in the Air all seem like safe contenders for Best Picture, along with Nine from the Comedy/Musical category. All of the above films did nicely in the acting, directing or writing categories, and even though both Lee Daniels and Rob Marshall were left out of the directing categories, both have a decent chance of making into that final five as well.
The Globes were also able to solidify a few underground campaigns that might not have necessarily been assumed to have mainstream appeal. Jeff Bridges and Colin Firth are definitely in the mix for their tiny movies Crazy Heart and A Single Man respectively, while Michael Stuhlbarg remains in spoiler position for A Serious Man, representing the only Globe nod for that film. Helen Mirren's Last Station bid, despite an overall lack of buzz for the movie, seems assured, as does Julianne Moore for A Single Man, though she's in the weakest position among the five Globe nominees.
As for the weekend's critic's awards-- which I rounded up in part here and here if you missed them-- it's clear that The Hurt Locker will be the big critical darling of the season, and all that support is likely enough to guarantee Kathryn Bigelow a Best Director nod (where she'll almost definitely go up against ex-husband James Cameron) as well as a Best Picture berth for the film. A lot of smart people are suggesting that the Academy is likely to shine brighter on Up in the Air-- more palatable, more technically perfect, more starry-- and I tend to agree. But it's downright miraculous that a movie released so early in the year, and premiering at the 2008 Toronto Film Festival, is managing to keep up so much traction.
Though Sherlock Holmes has yet to debut, it seems to be a non-factor beyond the Globes race (Robert Downey Jr.'s Best Actor in a Comedy/Musical was a nice surprise), so the only major question at the box office remains Avatar. Will audiences flip for it the same way critics did? Cameron showed up on The Today Show yesterday in an attempt to get women to go for the giant blue cat people, and the Golden Globes' faith in Avatar likely represents some expectation of their own that the movie will be a hit with audiences (they love nothing more than good ratings). I've talked to a lot of people about Avatar over the past few days, and the consensus seems to be that it will have a good-to-greatish opening weekend, but word of mouth through the holidays will be what really sells it. It's the strategy that worked for Titanic, a film that opened on December 19 with a $28 million opening weekend and had made it to $120 million by New Year's Day.
Unless it flops miserably, which seems unlikely, Avatar is a guaranteed Best Picture nominee-- but if it's a big hit, it might be hard to deny it the Oscar itself. Up in the Air and The Hurt Locker are both very strong, of course, but the phenomenon of a Best Picture nominee that's also a giant box office hasn't come around since, well, Titanic. Leave it to James Cameron to come back and show us all how it's done.
Below the charts have been updated with requisite commentary on how the various precursors have affected my choices, and a lot of trimming the fat-- there are many potential nominees on these lists who, quite simply, will not make it into Oscar. Later this week the Screen Actors Guild announces their nominees-- the Best Ensemble prize being their equivalent of Best Picture, and not likely to include Avatar this could get interesting-- and after that it'll be until the New Year before another major precursor comes along. A good time to sit back and catch up on some movies, or, you know, see your family. Whatever works for you at Christmas.
Weak as they are, Nine and Invictus are still in the mix following the Globes attention, while An Education and A Serious Man seem as vulnerable as ever after being all-but-ignored by the Globes and the critics alike. The Hurt Locker is now inevitable, and has been bumped up to Mortal Lock. An Education and Julie & Julia feel like the fuzziest inclusions at the moment, but I'm still not positive enough about A Serious Man, and have no idea what would replace An Education if it fell out-- The Last Station? A Single Man? Right now there's not enough evidence to change it either way.
The Hurt Locker
Precious:Based on the Novel 'Push' By Sapphire
Up Up in the Air
Avatar
An Education
Inglourious Basterds
Invictus
Nine
A Serious Man
The Blind Side
Julie & Julia
The Last Station
Sherlock Holmes
A Single Man
The Road
500 Days of Summer
Bright Star
Brothers
Crazy Heart
District 9
The Hangover
The Informant!
Public Enemies
Star Trek
Where the Wild Things Are
First things first: Kathryn Bigelow, having swept the critic's awards and earning lots of buzz for being a potential first-ever female Best Director winner, is now a Mortal Lock alongside Jason Reitman. Also, over the weekend I made a bet as to whether Tarantino or Eastwood would get the fifth director slot, presuming that Bigelow, Reitman, Cameron and Daniels are all locks. But now I'm feeling less certain than ever about Daniels's chances, given the Globes snub. I'm leaving him in for now partly in hopes that I'll win the bet, but I wouldn't be surprised to see Eastwood and Tarantino both make it instead.
Kathryn Bigelow, The Hurt Locker
Jason Reitman, Up in the Air
James Cameron, Avatar
Lee Daniels, Precious
Clint Eastwood, Invictus
Rob Marshall, Nine
Quentin Tarantino, Inglourious Basterds
Jane Campion, Bright Star
Joel and Ethan Coen, A Serious Man
Tom Ford, A Single Man
Lone Scherfig, An Education
John Hillcoat, The Road
Michael Hoffman, The Last Station
Peter Jackson, The Lovely Bones
Michael Mann, Public Enemies
Oren Moverman, The Messenger
Steven Soderbergh, The Informant!
Jim Sheridan, Brothers
Jeremy Renner popped up a time or two in the weekend critic's awards despite the overall domination by Bridges and Clooney, and despite the fact that Tobey Maguire somehow jumped in and grabbed his Globe nomination, Renner still seems likely to capitalize off The Hurt Locker's universal praise. Still, the fifth slot is shaky. The SAG nominees could clear things up, but if they go for anyone but Renner, it'll blow it open even wider.
Jeff Bridges, Crazy Heart
Colin Firth, A Single Man
George Clooney, Up in the Air
Matt Damon, The Informant!
Daniel Day-Lewis, Nine
Morgan Freeman, Invictus
Viggo Mortensen, The Road
Jeremy Renner, The Hurt Locker
Michael Stuhlbarg, A Serious Man
Joseph Gordon-Levitt, 500 Days of Summer
Tobey Maguire, Brothers
James McAvoy, The Last Station
Sam Rockwell, Moon
Sharlto Copley, District 9
Johnny Depp, Public Enemies
Ben Foster, The Messenger
Hal Holbrook, That Evening Sun
Bullock got that Globe nomination, though given the void left by Streep's placement in Comedy, it's hard to translate that. She's not going to win any criics' prizes, but with Streep, Mulligan and Sidibe continually sucking all the air out of the category, the final two slots could belong to anyone. Tilda Swinton made an interesting run at Best Actress in my critic's group voting, but she still seems way too out there for Academy purposes.
Carey Mulligan, An Education
Meryl Streep, Julie & Julia
Gabourey Sidibe, Precious
Sandra Bullock, The Blind Side
Marion Cotillard, Nine
Abbie Cornish, Bright Star
Helen Mirren, The Last Station
Maggie Gyllenhaal, Crazy Heart
Natalie Portman, Brothers
Saiorsie Ronan, The Lovely Bones
Tilda Swinton, Julia
Michelle Pfeiffer, Cheri
Audrey Tautou, Coco Before Chanel
Molina was left out of the Globe nominees in favor of Matt Damon, and given the Academy's longtime love affair with Clint Eastwood, I'm worried Damon could get in for his completely OK performance. An Education, where have you gone? I don't think Molina is down for the count-- SAG seems likely to go for him-- but his publicity team needs to go into overtime.
Alfred Molina, An Education
Christoph Waltz, Inglourious Basterds
Matt Damon, Invictus
Woody Harrelson, The Messenger
Christopher Plummer, The Last Station
Peter Sarsgaard, An Education
Stanley Tucci, The Lovely Bones
Richard Kind, A Serious Man
Anthony Mackie, The Hurt Locker
Paul Schneider, Bright Star
Stanley Tucci, Julie & Julia
Alec Baldwin, It's Complicated
Jude Law, Sherlock Holmes
Kodi Smit-McPhee, The Road
As Mo'nique remains unbeatable in every precursor awards, it's a little tricky to tell who will fill in the last few slots. The Globes lineup of Mo'nique, Kendrick, Farmiga, Cruz and Moore seems like a pretty solid one, but I still wonder about Cotillard getting knocked down to Supporting-- where she belongs-- and taking Cruz's spot. Hard to tell right now.
Mo'Nique, Precious
Penelope Cruz, Nine
Vera Farmiga, Up in the Air
Anna Kendrick, Up in the Air
Julianne Moore, A Single Man
Mariah Carey, Precious
Marion Cotillard, Nine
Judi Dench, Nine
Samantha Morton, The Messenger
Diane Kruger, Inglourious Basterds
Melanie Laurent, Inglourious Basterds
Paula Patton, Precious
Susan Sarandon, The Lovely Bones
Staff Writer at CinemaBlend
Your Daily Blend of Entertainment News
Thank you for signing up to CinemaBlend. You will receive a verification email shortly.
There was a problem. Please refresh the page and try again.