Oscar-Nominated Kon-Tiki Helmers Lining Up Big Hollywood Follow-Up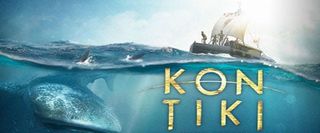 Things move fast in Hollywood. Days ago, most Americans had never heard of the Norwegian drama Kon-Tiki. But following its Oscar nomination for Best Foreign Film, the biopic about explorer Thor Heyerdal's incredible 4,300 miles voyage across the Pacific on a balsa wood raft has been promptly added to many must-see lists. Likewise, the film's directors Joachim Rønning and Espen Sandberg have become hot commodities in Hollywood, and are now poised for their Stateside breakthrough.
Deadline reports the directing duo are a hair's breadth away from signing a 7-figure deal to helm Legendary Pictures' Spectral. Described as Black Hawk Down with a supernatural twist, the Manhattan-set feature sounds to us like a grittier version of Ghostbusters. While that premise may not sound fresh or appealing, I have to confess I'm curious to see what Rønning and Sandberg will do with it.
Spectral began as a sizzle reel—a montage compiled from clips of other movies—that has since been scripted by Jayson Rothwell, who penned the trippy fantasy feature Malice in Wonderland. Basically, it seems like Spectral's deck is stacked with wild cards, but Rønning and Sandberg have now made three films together, the last of which was the most-expensive Norwegian production ever mounted and now a Oscar contender. Incredibly, the budget for Kon Tiki was only $15 million, but even from the trailer below you can see the production value looks like it would have been much more. Between the pair's Oscar notice and ability to make a small budget sing, it's no wonder Legendary is so eager to snatch them up.
The Weinstein Company is expected to bring Kon-Tiki in the U.S. theaters in March.
Staff writer at CinemaBlend.
Your Daily Blend of Entertainment News
Thank you for signing up to CinemaBlend. You will receive a verification email shortly.
There was a problem. Please refresh the page and try again.