Talking 'Shazam! Fury Of The Gods' With Director David F. Sandberg
David F. Sandberg returns to ReelBlend!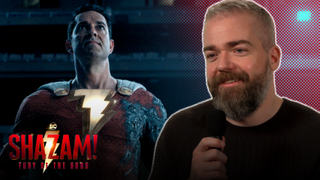 (Image credit: Warner Bros. )
Shazam! Fury of the Gods (starring Zachary Levi, Helen Mirren, and Rachel Zegler) hits theaters this weekend. Director David F. Sandberg returns to the show to discuss some behind-the-scenes moments from making the film. We chat about Henry Cavill's planned cameo in the first film, how his horror movie roots can influence even a big-budget superhero movie, the casting of Rachel Zegler, and more.
Also this week, we have to talk about the Oscars ceremony, one of the absolute best in recent memory. And, of course, we also have to announce this year's Oscar Wager winner.
Stick around to hear our full spoiler-free review of Shazam! Fury of the Gods, but be warned we do dip into a few spoilers before moving on to this week's BlendGame. See the timestamps below if that is something you want to avoid.
Timestamps (approx. only)
00:00:00 - Intro
00:07:05 - Director David F. Sandberg Talks Shazam! Fury Of The Gods
00:25:04 - Oscar Ceremony Review & Wager Winner Announced
00:48:48 - Shazam! Fury Of The Gods Review
01:00:44 - Shazam! 2 Spoilers
01:05:50 - Our Favorite Helen Mirren Movies
01:11:52 - Outro
Want More ReelBlend?
Sign up for our premium membership, which includes an extra episode a week, a bi-weekly newsletter from Sean, and ad-free episodes. Also, be sure to subscribe to ReelBlend on YouTube for full episodes of the show in video form. Finally, we have all kinds of fun merchandise for dedicated Blenders to flaunt their fandom with pride.
Your Daily Blend of Entertainment News
Video Producer & Podcast Lead
Gabe studied Film & Photography at Webster University. He currently spends his free time looking like a fool trying to play Ice Hockey (a recently acquired hobby), playing video games, and watching every movie starring Dwayne "The Rock" Johnson. Dwayne, if you're reading this...he sends his love.