Out-Of-Print Blade Runner Sketchbook Now Online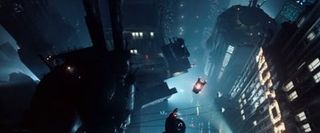 Aside from being an amazing movie in and of itself, the look of Blade Runner's world and design has influenced countless movies, shows, and games that have followed. The movie is filled with tons of iconic elements, from the flying police cars dubbed "spinners" to the multi-cultural marketplace where Deckard searches for a man who makes snakes. One of the coolest behind-the-scenes looks at the design of the film came in The Blade Runner Sketchbook, published back in 1982. It collects artwork by the legendary Syd Mead, Mentor Huebner, Charles Knode, Michael Kaplan, and Ridley Scott. Long since out of print, copies of the book fetch hefty prices online. Now, however, you can read the Sketchbook yourself for free.
A flippable copy has been uploaded online, so now you can read the entire book without having to drop a bundle of cash or scour convention tables hunting for a bootleg copy. The Sketchbook includes looks at familiar elements such as the Spinners, as well as unused arcana such as "Tyrell's Crypto-Crypt." You can check out the entire book here (opens in new tab), and we've included some of the niftier images below.
Thanks to Kevin Church for pointing out the Sketchbook via Twitter.
Your Daily Blend of Entertainment News
Thank you for signing up to CinemaBlend. You will receive a verification email shortly.
There was a problem. Please refresh the page and try again.