Outrun, Starring Dax Shepard, Kristen Bell And Bradley Cooper, Arrives Next Summer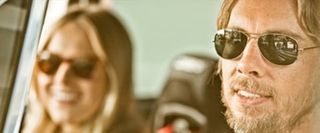 One need only remember the travesty that was Gigli to realize that mixing real-life romance with the onscreen version doesn't always work out. Nevertheless, offscreen couple Kristen Bell and Dax Shepard decided to team up for the upcoming action/comedy Outrun, which THR says will be hitting theaters next summer. Hopefully there will be no "gobble gobble " moments.
Shepard stars as a former getaway driver who skips out on Witness Protection to drive an ex-girlfriend (Bell) cross country for a dream job. Naturally, the authorities (led by Tom Arnold) are on his tail the whole way as are his former criminal cohorts (led by Bradley Cooper) who were responsible for him landing in witness protection in the first place.
Former Punk'd staple/Bell fiance Dax Shepard wrote and co-directed (with the flick. It's Shepard's first directorial outing, and he'll also be playing a character named "Charlie Bronson." Much as I'd like to hate Shepard for putting his filthy mitts all over Kristen Bell, he'll always have a special place in my heart for his role as Frito in Mike Judge's brilliant and underwatched Idiocracy ("I can't believe you like money too. We should hang out.").
Presumably Shepard and Bell will have great onscreen chemistry since they've been practicing it in real life for a while now, and seeing Cooper playing the bad guy again could be interesting. Outrun might just be a fun late-summer distraction. You'll be able to check it out in theaters on August 24th, 2012.
Your Daily Blend of Entertainment News
Your Daily Blend of Entertainment News
Thank you for signing up to CinemaBlend. You will receive a verification email shortly.
There was a problem. Please refresh the page and try again.