Paddy Considine Rekindles Hot Fuzz For Edgar Wright's The World's End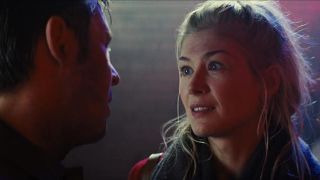 (Image credit: Focus Features)
Paddy Considine made quite an impression last year with his directorial debut, Tyrannosaur, but while a highly anticipated followup behind the camera has yet to be slated, the British actor has lined-up a few feature acting roles in the interim. Considine is a big bonus for any film but news that he's reuniting with Simon Pegg, Nick Frost and Edgar Wright for The World's End is especially appealing since his turn as Detective Sergeant Andy Wainwright in Hot Fuzz almost steals the unstealable satire.
According to Variety, Considine has agreed to join the final installment in the "Blood and Ice Cream Trilogy" (also known as "The Three Flavours Cornetto," all written by Pegg and Wright, directed by the latter) as a divorced architect who used to be a big ladies man and aspiring musician. The film is about the reunion of five childhood friends for a drinking marathon at the titular pub and it seems like Considine is joining Pegg and Frost as part of the group running through adult beverages before something more is at stake than their past and presents, namely, the future of humankind! No pressure.
Rosamund Pike has also been cast in the film as a love interest for Pegg's character and, even though she's great, I'm hoping that a few more from the first two "Cornetto" films make an appearance for The World's End. Maybe he can rope in Peter Serafinowicz or Rafe Spall to play one of the other group members (assuming there's room for more boys)? Or recruit Olivia Colman to come back to comedy since, you know, the end is nigh and all. With the cameos he managed to line-up for the opening of Hot Fuzz, I'm sure the director will have no problem filling End with familiar funny faces.
In the meantime, if you want to see Considine's incredible range, just watch his performances in In America, Dead Man Shoes and Hot Fuzz back to back to back. Everybody and their mums would would tell you, he's fantastic.
Your Daily Blend of Entertainment News