Pam Grier To Get Her Own Biopic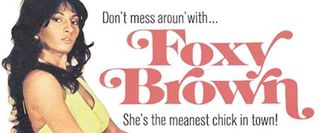 With the top film at the box office being a female-fronted action-adventure about a rebel standing up against the powers that be, it seems the perfect time for Pam Grier's autobiography Foxy: My Life in Three Acts to be adapted into a biopic. As a major star of the 1970s Blaxploitation movement, Grier forged a hard to tread path through the industry, facing sexism, racism, and exploitation along the way. Published in 2010, Foxy recounts not only her rise to fame with flicks like Coffy and Foxy Brown, but also explores her relationships with Richard Pryor, Kareem Abdul-Jabbar, and Freddie Prinze Sr., as well as her comeback and ongoing cancer battle.
Hers is a powerful story of tenacity and bravery that could well serve as a stalwart base for an incredible biopic. So it's little surprise a production company has bit on this Foxy property, what is surprising is which production company. Deadline reports Imprint Entertainment, best known for producing such tween-friendly fare as Twilight and Percy Jackson & the Olympians: The Lightning Thief, is developing the project with Michael Becker, Bennie Richburg and Alfred Sapse serving as producers. It seems Foxy is part of a concentrated effort for Imprint to expand into more mature material as they are with Pawn, a crime thriller starring Forest Whitaker, Ray Liotta, Nikki Reed, Michael Chiklis, and Common that is currently in postproduction and due out next year.
Speaking about their plans for Foxy, Becker stated:
Already, they've contracted screenwriter Eunetta Boone to adapt the book, which seems a smart choice as she recently translated the shocking true story of the elusive, long-time jewel thief Doris Payne into a possible vehicle for Halle Berry, fittingly titled Who is DORIS PAYNE?Boone appears to know how to tell the story of a fierce female in a field flooded by men, so there's hope that Grier's strong yet sassy nature won't be lost amidst all her story's inherent drama. Now, I'll be curious to see who Imprint will bring in to direct, and what actresses they'll consider to play Grier. I mean, who could possibly fill her shoes?
Staff writer at CinemaBlend.
Your Daily Blend of Entertainment News
Thank you for signing up to CinemaBlend. You will receive a verification email shortly.
There was a problem. Please refresh the page and try again.