Paranormal Activity 3 Coming Next Halloween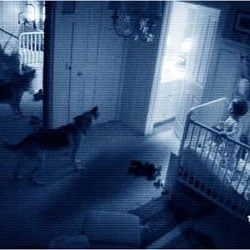 In theory the Saw franchise wrapped up this Halloween, and that means there's room for some other horror franchise to step in and take its annual place. Enter Paranormal Activity. The second entry in the fake found footage franchise opened to solid business this Halloween, even though it was competing against Saw 3D. Now there's a third entry coming, and with Saw out of the picture it should be able to dominate.
Dread Central reports that not only is Paranormal Activity 3 coming but it already has a release date. Expect the next installment in theaters on October 21, 2011. That fits right into Saw's previously comfortable pattern of releasing a new sequel every year, right around Halloween.
No word yet on what it'll be about, but expect it to stick to the same pattern of grainy, security camera footage. If you're a horror movie being released on Halloween, the script probably doesn't really matter. Throw in some creepy music and promise to scare people, and you'll find an audience.
Your Daily Blend of Entertainment News
Thank you for signing up to CinemaBlend. You will receive a verification email shortly.
There was a problem. Please refresh the page and try again.