Paranormal Activity 4 And Alex Cross Both Disappoint At Friday Box Office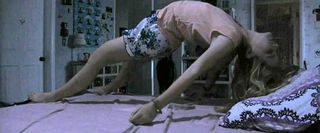 Though the Paranormal Activity franchise remains undeniably strong, and the fourth installment in the series will come in at #1 at this weekend's box office, the micro-budget horror behemoth is showing some signs of wear this weekend. Paranormal Activity 4 made $15 million on Friday, based on estimates, and is on track for a $34 million weekend-- a sizable opening for a film that cost just $5 million, but well, well below the huge $52.6 million that Paranormal Activity 3 netted on its opening weekend last year.
Even worse-- according to Deadline, the film is getting just a C Cinemascore rating from audiences, which will hurt the latest film in a franchise initially built on word of mouth. At the same time, international gessoes are looking pretty strong, so the franchise build on almost no budget will still be doing just fine.
Elsewhere in disappointing openings, the Tyler Perry-starring Alex Cross made just $4.5 million Friday, on track for a $13 million weekend, much less than the $20 million that was estimated. It's also the lowest opening Perry has ever had-- even For Colored GIrls opened higher. It might not bode well for the sequel that Perry is reportedly planning. At the same time, he's an entrepreneur with more than enough resources to make his own decisions, so the Alex Cross sequel could easily arrive whether anyone wants it or not.
We'll have the final box office numbers for you on Sunday, but in the meantime let us know what you're seeing this weekend, and if Paranormal Activity 4 and Alex Cross were actually as disappointing as these responses make them out to be.
Staff Writer at CinemaBlend
Your Daily Blend of Entertainment News
Thank you for signing up to CinemaBlend. You will receive a verification email shortly.
There was a problem. Please refresh the page and try again.