Paranormal Activity 4 Nabs $4 Million From Midnight Screenings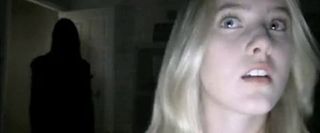 The Paranormal Activity movies are famously made for almost no money, so when each of them regularly opens to multi-million midnight showings, they've made back their production budgets before they've even officially opened. At the same time, though, the midnight opening of Paranormal Activity 4 can be considered something of a disappointment. It made $4.5 million last night, whereas the previous installment of the franchise made $8 million from midnight showings just a year ago.
That's a steep drop, and yet as Deadline reports, the fourquel should still be in solid shape to rule the weekend. Estimates have it making between $35 and $40 million, which is well, well over the $5 million production budget. At the same time, it will be nowhere near the massive success of the third film, which had an enormous $52 million opening weekend last year, a peak for the series. PA 4 should come in closer to the second film, which made $40.7 million on opening weekend. That said, none of the sequels have grossed quite as much domestically as the first one, which wound up with $107 total after a slow, brilliant platform release.
Still, Paramount should be pretty happy to have a movie dominating the box office, especially since it's the first non-animated, non-documentary they've released since the comedy flop The Dictator. The new horror film has pretty much no box office competition, though I'm deeply curious about how Alex Cross will fare, given that it's Tyler Perry's first star turn in something that isn't a Madea movie. Will his fiercely loyal fan base follow him into this dark crime thriller? Will the hilariously bad reviews keep people away? We'll be keeping an eye on the box office all weekend, as usual, so more details to come on Saturday. In the meantime, let us know in the comments what you're seeing!
Staff Writer at CinemaBlend
Your Daily Blend of Entertainment News
Thank you for signing up to CinemaBlend. You will receive a verification email shortly.
There was a problem. Please refresh the page and try again.