Party Down Movie To Shoot This Summer, Maybe Without Jane Lynch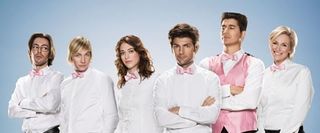 Rob Thomas (not the Matchbox 20 guy) is one of those people whose shows tend to be short-lived and generate intense fan passion. With Veronica Mars he introduced the world to Kristen Bell and gave us an outstanding detective and one of the best serialized seasons ever filmed (season two). Then he gave us Party Down, one of the best skewerings of Hollywood culture ever, all seen through the eyes of a catering crew, all of whom are just working the job until they "make it big." Two awesome shows, two short-lived shows. Sure, in this day and age where some network shows only last a single episode, we should be grateful that we got to spend three years with Veronica and two with the Party Down crew.
Still, it takes a lot to convince fans that their shows are really and truly gone. There have been rumors of, and much fan frothing over, a Veronica Mars movie for years, but it will probably never happen. Sure, Arrested Development is coming back via Netflix, so never say never, but it's definitely a long shot. Fortunately, things look brighter for fans of Thomas' more recently canceled show. According to Deadline, the Party Down movie is indeed happening, most of the cast is returning, and it will be shooting this summer.
Actress Megan Mullally, who played Lydia Dunfree on the Starz sitcom, dropped some details about the big-screen project during a Fox TCA panel in Pasadena. Series co-creator John Enbom is writing the script, and that the entire cast should be returning, except possibly for Jane Lynch, who keeps a hectic schedule these days thanks to Glee. Hey, as long as they bring back Martin Starr's cynical wannabe screenwriter Roman DeBeers, I'll be a happy camper.
As for the Veronica Mars movie, we should probably all just move on with our lives. But then again, you never know. This is Rob Thomas we're talking about, the guy who made two versions of the same TV show within a decade of each other.
Your Daily Blend of Entertainment News
Your Daily Blend of Entertainment News
Thank you for signing up to CinemaBlend. You will receive a verification email shortly.
There was a problem. Please refresh the page and try again.