Patton Oswalt Will Be The First Person To Exhale Pot Smoke In 3D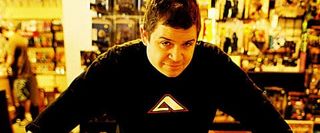 Seven months ago we learned here that comedian and actor Patton Oswalt was on the set of A Very Harold and Kumar Christmas, but no one seemed to be talking about just what it was he was doing there, other than that he'd show up in the film. Now we know. Not only will Patton be in the movie, but he'll be responsible for a cinematic first.
Appearing this week on the podcast Doug Loves Movies Patton revealed that he'll play "a weed selling Santa Clause". What's more exciting than the actual part he's playing, is what they're having him doing in his Santa suit. A Very Harold and Kumar Christmas, like every other damn movie being released any time in the next to years, will be in 3D. Since it's a Harold & Kumar movie, that means they won't use that 3D responsibly. Instead, in Patton's case, they're using the 3D effects to have him blow spot smoke at the screen in what Patton describes as him performing "the first 3D exhalation of pot smoke on film."
If you're a stoner, that probably seems cool, especially since almost everyone who actually shows up at Harold & Kumar movies seems to be the parking lot getting stoned right before they walk in. Now, thanks to 3D and Patton Oswalt, it'll be like you never had to stop smoking to come in.
Your Daily Blend of Entertainment News
Thank you for signing up to CinemaBlend. You will receive a verification email shortly.
There was a problem. Please refresh the page and try again.