The Perks Of Being A Wallflower Lands Release Date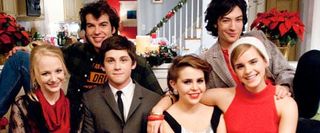 Stephen Chbosky's controversial coming-of-age novel The Perks of Being a Wallflower has been a must-read for teens since its debut in 1999. Set in the early '90s, the book unfolds the tragedy-strewn story of Charlie, an introverted high school freshman who channels his thoughts, hopes and fears into letters to an anonymous friend. Told entirely in this epistolary style, Perks gave a unique insight into its gawky teen protagonist's inner thoughts. So when word arose that Summit Entertainment was spearheading a movie adaptation, some fans feared the tender tale would suffer in translation to screen. However, Summit brought the book's author in to pen the screenplay and direct, which quieted concerns about a faithful interpretation considerably.
Then came casting news that boasted such heralded talent as Melanie Lynskey, Ezra Miller, Paul Rudd, Mae Whitman, Logan Lerman and Emma Watson, and even the most cynical Perks lovers began to feel encouraged about the in-develop drama. Now, at long last the film's been shot, the first glimpse of its leads in costume have been revealed, and finally Summit has announced a fall release.
It's official: The Perks of Being a Wallflower will hit theaters September 14th, 2012.
Thematically it's a fitting premiere date, positing the teen-centered drama at the beginning of the school year. It's actually pretty poetic that Summit has set up Perks as a kind of solace for high schoolers stung by the start of classes. But beyond this, it's a strong position, offering an alternative to the mindless action of Paul W.S. Anderson's Resident Evil: Retribution and the kid-friendly 3D re-release of Finding Nemo. Here, in between two big budget spectacles, Perks will have a chance to stand out for all its glorious differences. How fitting.
Your Daily Blend of Entertainment News
Staff writer at CinemaBlend.
Your Daily Blend of Entertainment News
Thank you for signing up to CinemaBlend. You will receive a verification email shortly.
There was a problem. Please refresh the page and try again.