Peter Berg Says No Hancock 2, For Now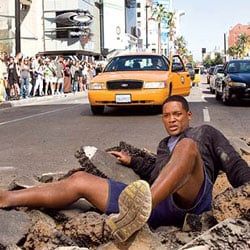 After tons of buzz, it looks like Hancock 2 isn't happening after all. Just two months ago director Peter Berg expressed his excitement to reunite with the cast of Hancock to make a sequel. Well, that was before we got word that Berg was hired to direct Battleship. HitFix had a chat with director Berg who seems to have lost interest in making a second film, for the time being.
Apparently Will Smith is keeping out of the spotlight, hanging out with his family and watching his kids' film careers grow. On top of that, producers James Lassiter, Akiva Goldsmith and Michael Mann are busy with projects of their own. "To get us all in the same room where we can talk and then agree on anything? You'll never meet a group of people who will have a harder time agreeing on anything. It's like the Israeli peace process times a thousand in how tough it is for us all. But I think it will happen, we just all have to get in the same room with some consistency."
Yes, Berg, expresses a glimmer of hope, but when HitFix asks him if Hancock 2 could be next in line after Battleship, he says he plans to work on the adaptation of Marcus Luttrell's fiction novel Lone Survivor next, which Berg explains is about "17 seals that were killed in one gunfight in Afghanistan. One survived." Then there's Berg's everlasting hope to reunite with Dwayne Johnson to make The Rundown 2. "I love The Rundown. I don't know if the audience was quite ready to accept Dwayne [at the time]. We had a certain amount of resistance." As for Johnson, Berg says "He'd love it" and that "We always joke 'When are we gonna do it?' But sometimes it's just a question of timing and getting all the stars to line up. There is no reason why we wouldn't."
It looks as though we could see The Rundown 2 before Hancock 2. I'd have no objection to that agenda. Does anyone really want a second Hancock anyway?
Your Daily Blend of Entertainment News
Staff Writer for CinemaBlend.