Pettyfer And Lawrence Out, Julianne Moore In For The Seventh Son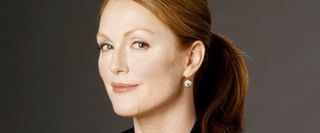 The last time we reported on the forthcoming young adult novel adaptation The Seventh Son it was called The Last Apprentice, and rising star Alex Pettyfer had reportedly ditched another project in order to lead the cast that was also set to include Jeff Bridges and Jennifer Lawrence. A month and a half later, a whole lot has changed. Bloody Disgusting reports that Lawrence is out thanks to her new role in The Hunger Games, Pettyfer is out for other reasons (maybe he's gotten the other role in The Hunger Games he was offered), but Julianne Moore has signed on.
Still hanging in there is Bridges, who will reportedly play Exorcist Master Gregory, better known as "The Spook." Moore will be joining him in dabbling with the supernatural, playing the sinister witch Mother Malkin. At some point they'll cast another actor as Tom Ward, the boy who trains with Bridges's character and winds up releasing Moore's character, "The most evil witch in the world." I'm getting a slight Percy Jackson and the Olympians vibe, seeing all these talented adult actors sign on for a children's book adaptation, but Moore and Bridges are already a head start over Percy Jackson's Uma Thurman and Pierce Brosnan. Let's see who they bring on in the Pettyfer role and take our speculation from there.
Staff Writer at CinemaBlend
Your Daily Blend of Entertainment News
Thank you for signing up to CinemaBlend. You will receive a verification email shortly.
There was a problem. Please refresh the page and try again.