Pixar's Brave Snarled In Trademark Battle With Atlanta Braves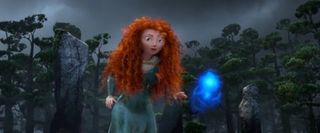 Well, I didn't see this one coming. Copyright or plagiarism lawsuits are a dime a dozen in Hollywood, but now Pixar's upcoming film, Brave, is in the midst of an argument that seems, well, a little silly. According to Stitch Kingdom, this past summer the Atlanta National League Baseball Club filed an objection to Disney/Pixar's changing the name of their upcoming film from The Bear and the Bow to Brave. The ANLBC are the owners of – wait for it – the Atlanta Braves.
Yes, it seems the owners of the Atlanta Braves are worried that Pixar's Brave might infringe on their existing trademark of the Braves name. As Stitch Kingdom's story points out, trademarks are specific not just to the name of something, but to the form of that name – so they have the trademark to Braves, plural, but not necessarily to Brave, singular. The Braves' owners counter that nitpick by claiming that "it is common for fans, media, et al to use the singular form when referring to a single player, whereas the pluralized form refers to the entire team." So Pixar releasing a movie called Brave, which is about a Scottish princess, will somehow harm the Braves' trademark or confuse consumers who will, I guess, wander into a movie theater and wonder where the hell the baseball diamond is.
Like I said: silly. The two parties are currently in negotiations, so hopefully Brave will still be Brave when it comes out on June 22nd, 2012. Just remember: if you're watching a flame-haired Scottish princess who appears to be CGI, you're probably not at an Atlanta Braves baseball game.
Your Daily Blend of Entertainment News
Your Daily Blend of Entertainment News
Thank you for signing up to CinemaBlend. You will receive a verification email shortly.
There was a problem. Please refresh the page and try again.