Pixar Just Revealed A Ton Of New Plot Details For Next Summer's Inside Out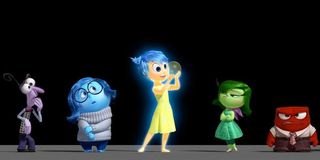 After such wonderful films as Toy Story, The Incredibles, Up and Ratatouille, Pixar's brand is so strong that their very name makes us pumped for upcoming projects, whatever they are about. But one of their 2015 releases is now coming into sharper focus, as the widely acclaimed animation studio unveils a fuller plotline for Inside Out.
Here is Pixar's official synopsis for Inside Out:
Inside Out is being helmed by Pete Docter, the Academy Award-winning filmmaker behind Up. Docter also concocted the concept of this internal struggle adventure, then Pixar brought in another Academy Award winner--Michael Arndt of Little Miss Sunshine fame--to pen the screenplay. On paper this is a pretty impeccable combination. Docter has an incredible gift for visual story telling. In case you forgot, please give yourself a moment to revisit Up's deft, delicate and wordless montage of the romance of Ellie and Carl. (No one will blame you for crying at the 1:30 mark.)
As for Arndt, he made his mark with a script that was dark yet bubbly, hilarious yet heartbreaking. But perhaps most importantly of all, he was the screenwriter who gave us little Olive Hoover, who wore big glasses and baby fat with an easy confidence, and won our hearts with a dance routine that not only made her a "loser" but had her disqualified from the titular competition. For me, Little Miss Sunshine means Michael Arndt is precisely who Pixar needs to continue to branch out into female protagonists, like Riley and Joy.
Speaking of the voice cast, there are plenty of reasons to be pumped about it, as the ensemble is stuffed with some of TV's most exciting comedic talents, including Parks and Recreation's Amy Poehler, The Mindy Project's Mindy Kaling, Saturday Night Live alum Bill Hader, The Office's Phyllis Smith, and The Daily Show With Jon Stewart's Lewis Black.
Just last week I was watching a mediocre animated movie (Free Birds if you're curious), in which Amy Poehler lends her voice as a plucky turkey with a lazy eye. I wondered aloud why this comedienne who is full of energy and a master of various voices had not yet been called in to lend her voice to a Pixar project, instead popping up in Alvin and the Chipmunks: Chipwrecked and Hoodwinked Too! Hood vs. Evil. It's about time Pixar looped in Poehler, who has a voice made for animation. If you're not convinced, I implore you to dig into her fantastic and (insanely) little-known cartoon series The Mighty B!, which she co-created and fronted as the titular girl scout, Bessie Higgenbottom!
For a small dose of the show that is the perfect compliment to Leslie Knope's Parks and Rec, I can't recommend this hyper-active cartoon enough.
Rent it on Netflix or watch it on Nickelodeon or Amazon Prime to tide you over until Inside Out opens on June 19, 2015.
Staff writer at CinemaBlend.
Your Daily Blend of Entertainment News
Thank you for signing up to CinemaBlend. You will receive a verification email shortly.
There was a problem. Please refresh the page and try again.