Quentin Tarantino Will Close Out Cannes With A Special Aniversary Screening Of A Fistful Of Dollars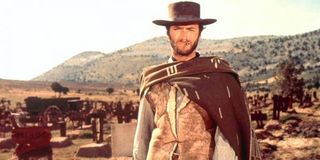 Django Unchained writer-director Quentin Tarantino has long been an outspoken fan of Spaghetti Western auteur Sergio Leone, and now he's been given one of cinema's grandest stages to sing the master filmmakers praises.
THR has gotten word that Quentin Tarantino will be hosting a special event screening of Sergio Leone's classic A Fistful of Dollars on the closing night of the Cannes Film Festival on Saturday, May 24th. The screening will not only serve as a grand finale to the esteemed French festival, but will also commemorate the movie's 60th anniversary, as well as the birth of the Spaghetti Western genre.
Unofficially a remake of Akira Kurosawa's samurai drama Yojimbo, A Fistful of Dollars famously starred Clint Eastwood as a nomadic gunfighter who plays two greedy families against each other in a vice-ridden town of the Old West. Eastwood and Leone went on to collaborate again with For a Few Dollars More, and The Good, The Bad, and the Ugly to complete the Dollars trilogy (A.K.A. The Man With No Name Trilogy), which cemented both as icons of the genre.
At this juncture, there is no word on whether or not Clint Eastwood will be in attendance at this special screening.
For its Cannes revival, A Fistful of Dollars has been given a careful restoration by Immagine Ritrovata film laboratory. The film's original Techniscope negative has been dedicatedly digitized through immersion. From there, storied cinematographer Ennio Guarneri was brought in to oversee the digital calibration of the 4K version. To keep true to the original film's colors, a Technicolor print from 1964 was referenced. Basically, this is just about the best restoration money can buy. And those paying were Cineteca di Bologna, Unidis Jolly Film, the Hollywood Foreign Press Association and Martin Scorsese's Film Foundation.
In case you can't make it to Cannes, you can watch A Fistful of Dollars now on Nettflix (opens in new tab).
In other Cannes news, the festival has also announced the members of this year's Un Certain Regard and Golden Camera juries. According to THR, the panel picked to judge the Un Certain Regard section of the festival's film slate boasts Argentinian filmmaker Pablo Trapero (Carancho), Criterion Collection president Peter Becker, Scandanavian actress Maria Bonnevie (Belle du Seigneur), French actress Geraldine Pailhas (Young and Beautiful) and Senegalese filmmaker Moussa Toure (La Pirogue).
Meanwhile, making up the Golden Camera's panel of judges - who will select the Camera d'Or winner - are Algerian actress-director Nicole Garcia (Going Away), director Helena Klotz (L'âge atomique), director and chief cameraman Philippe Van Leeuw (The Life of Jesus), technician Gilles Gaillard, journalist Lisa Nesselson, and critic Sophie Grassin.
The Cannes Film Festival will have its opening night tomorrow, May 14th.
Staff writer at CinemaBlend.
Your Daily Blend of Entertainment News
Thank you for signing up to CinemaBlend. You will receive a verification email shortly.
There was a problem. Please refresh the page and try again.