Quentin Tarantino Steals Some Lines To Appear In Django Unchained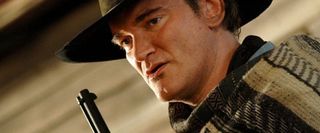 Writer, director and film fanatic Quentin Tarantino has made it a point to pop up in small roles in several of his movies. Most recently he was a Nazi being scalped in Inglourious Basterds, but for his latest venture, the vengeance-fueled Western Django Unchained, the garrulous auteur has secured some actual lines of dialogue...which he stole from a member of his cast.
Rex Linn of CSI: Miami has confessed to Look at OKC (via The Playlist) that his role as Tennessee Harry in the upcoming adventure was pretty fantastic with several of the screenplay's best lines going to him. However, when it came to shooting one scene in particular, Linn lost some of his lines to Tarantino who decided "he liked the scene so much he wanted to be in it, too, and that he would also be taking some of my lines."
While some actors might be miffed about losing any of Tarantino's trademark sharp dialogue—even to the writer-director himself—Linn took the bon mot snatching in stride, saying, "It's not my movie. I'm just happy to be in the movie. I mean it's the most anticipated movie of the rest of this year. It's a dream come true."
With the film's trailers heralding its incredibly cool cast that includes Jaime Foxx, Christoph Waltz, Leonard DiCaprio, Kerry Washington, and Samuel L. Jackson, it's surprising that Tarantino hasn't tipped his cameo yet. Maybe he worried his inclusion would pull focus from his cast, who soldiered through a lengthy production schedule that clocked in at 130 shooting days. Or perhaps he felt the inclusion of the cameo of Franco Nero, who starred in the film's 1966 spaghetti Western inspiration Django, was a more powerful pull.
Speaking of inspirations, Tarantino's long-time friend Aussie actor John Jarrat, who appears in Django Unchained as a cruel slave trader, claims the admitted fan of Ozploitation pictures is considering setting a future project in Australia. Jarrat tells the Herald Sun:
Tarantino's fervent fandom for Aussie films of the 1970s and '80s is on display in full effect in the kinetic and enthralling documentary Not Quite Hollywood (opens in new tab), which is now streamingon Netflix Instant. Watching his earnest enthusiasm there as he discusses the gonzo nature of those movies, it's easy to imagine Tarantino taking these low culture elements and twisting them into something as striking as Inglourious Basterds. But for now, this is just a tantalizing possibility.
Django Unchained opens Christmas day.
Your Daily Blend of Entertainment News
Staff writer at CinemaBlend.