Rachel Weisz May Star Opposite Depp In The Thin Man Remake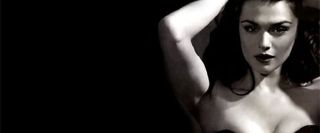 Rob Marshall and Johnny Depp are working on a remake of The Thin Man in which Depp would take the role of Nick Charles, originally played by William Powell in the 1934 version. And now, we know who may end up playing his wife, Nora. Warner Bros. is considering Rachel Weisz.
The movie is a comedic detective story about a flirty, married couple who solve crimes. The 1934 version was nominated for an Academy Award, but if you picture this premise in a 2011 wrapper, you'll probably end up with something like The Tourist, Killers, Knight and Day, Mr. & Mrs. Smith, or a dozen other movies with similar premises. The Thin Man was a good film, but that idea has been done so many different ways since, to differentiate the redo from the pack they'll need special casting. Weisz and Depp together on screen seems like a natural fit.
Word from one of our most trusted sources is that the film is still in development and they're waiting for Johnny Depp to make time for it in his schedule. Remember, he's still pretty loaded with movies like The Lone Ranger, Dark Shadows, and maybe even a Pirates of the Caribbean 5 also in his future. Warner Bros. would like to find a way to squeeze Thin Man in ahead of those films, but for now they're still working out the details. Because of that, Weisz isn't actually in talks for the part yet, but she's somewhere at the top of their wishlist for the moment when everyone involved is ready to make a move.
For her part, Rachel Weisz could really use a blockbuster, or for that matter a movie people actually show up to see at all. Her most recent work hasn't exactly caught fire. She was last seen in The Whistelblower, which I bet many of you didn't even know exists. Her next few movies seem destined to be equally obscure, though if Oz: The Great and Powerful ever gets going, she should create a stir as a witch. But barring that, teaming up with the ever reliable Johnny Depp in something like The Thin Man is always a good way to remind everyone of just how good you are.
Your Daily Blend of Entertainment News
Thank you for signing up to CinemaBlend. You will receive a verification email shortly.
There was a problem. Please refresh the page and try again.