Rashida Jones Sells Frenemy Of The State Comics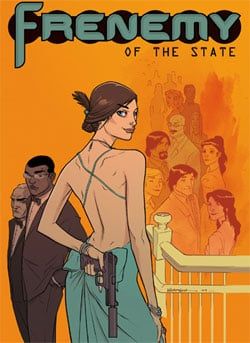 Apparently unbearably attractive girls are way into geeky stuff nowadays. How long have geeks been waiting for this? Decades, I imagine. Rosario Dawson writes comics and stars in Kevin Smith movies. Kristen Bell dresses up as slave Leia in Fanboys. Even so-hot-it-hurts Rashida Jones is in on the geek craze, having written a graphic novel entitled "Frenemy of the State."
Now Jones' comic looks like it will be hitting a silver screen near you very soon. According to Variety, Universal Pictures and Imagine Entertainment have acquired the rights to adapt the novel into a movie. Rashida will pen the script along with Will McCormack. "Frenemy of the State" follows an heiress who doubles as an undercover agent for the CIA. Imagine if Paris Hilton was an act this whole time and was actually and undercover agent looking to find the darkest secrets of Hollywood? That would be genius.
Unfortunately for us, she won't be acting in the lead role. According to Jones, she imagined the girl as "about age 20, an interesting age for girls as they make that scary jump to adulthood." The Office has spawned some talented writers over the last few years, and while I don't believe Jones wrote any episodes of the show, I'm sure she picked up some pointers. If she's can bring half the talent that her former co-workers can bring, this will definitely be something worth watching.
Your Daily Blend of Entertainment News
Thank you for signing up to CinemaBlend. You will receive a verification email shortly.
There was a problem. Please refresh the page and try again.