Ratatouille Secrets Revealed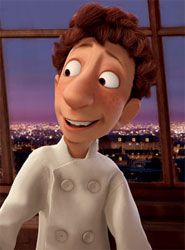 There are a couple of things you can always depend on from a Pixar film. For one, since the beginning they have always opened with a fun little short film as a kind of warm up act. Secondly, they almost always refer to their other movies at some point in their film, even if it's just the appearance of Luxo Jr. (the Pixar logo lamp) or his little ball. Finally, you can always find John Ratzenberger voicing some character in the movie. Interestingly, Ratatouille, the latest film from Pixar, combines two of these in a new way.
The short that opens Ratatouille is called "Lifted", and is a clever little movie that combines Close Encounters of the Third Kind with a driving school experience. But Ratatouille director Brad Bird told Sci Fi Wire that the short also holds the connection to another Pixar film, and that film is… Ratatouille. Apparently the model of the "victim" in "Lifted" is the same that's used for Ratatouille's meek human hero Linguini.
Okay, so that's not big news, but it is an interesting piece of trivia. While you're amazing friends with that piece, remember that "Lifted" was nominated for an Oscar last year in the Best Animated Short Film category. Sadly we almost never get to see Pixar's entries into the category until the following year, but "Lifted" is a good example of why I almost always put my money on Pixar to win Best Animated Short.
Ratatouille and "Lifted" hit theaters together this Friday, June 29th. Oh - and the John Ratzenberger appearance? Listen very closely to the Maitre'd and see if you can recognize the former "Cheers" mailman.
Your Daily Blend of Entertainment News