New Red Trailer Arrives: Helen Mirren Does Wet Work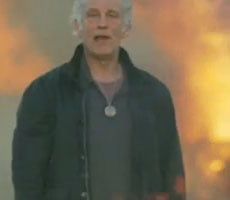 There's a lot to like about Red and even more to like in the movie's new trailer. All you really need to know about the film, though, is that it stars Helen Mirren as the best wet work woman in the business. That means she kills people, dear. Bruce Willis is in this movie too but it's Mirren who really seems to have people's attention. She's the new Betty White. Or Betty White is the old Helen Mirren… or they're both just old and suddenly inexplicably, insanely popular at the same time. Betty got popular for being crass, Helen's cool with the kids for shooting people with guns. Whatever works.
New in this second Red trailer is a better look at how John Malkovich fits in, and an extended and unexpected cameo by the very aged Ernest Borgnine, who seems to be their gadget man. So here's the new trailer for Red, which incidentally stands for Retired and Extremely Dangerous. Watch it below or watch it in HD over at Apple.
Your Daily Blend of Entertainment News