This Rotten Week: Predicting Hardcore Henry, The Boss And Before I Wake Reviews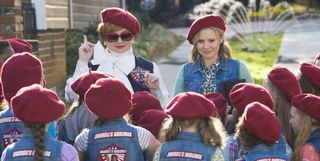 After a slow week of new movies coming out last time around – studios fearing the second week behind Batman v Superman: Dawn of Justice, things pick back up this week in the film world. Get ready for Hardcore Henry, The Boss, and Before I Wake.
Just remember, I'm not reviewing these movies, but rather predicting where they'll end up on the Tomatometer. Let's take a look at This Rotten Week has to offer.
Rotten Watch Prediction
Quite possibly my favorite part of the description of Hardcore Henry is in the R-rating tag, where the film is described as having "... non-stop bloody brutal violence and mayhem, language throughout, sexual content/nudity and drug use." I don't know if that's from the MPAA ratings guide, but man it had me cracking up. The "non-stop" piece is the real telling sign for the flick, which appears a total tour-de-force of action right from the get go. Basically, it's first person shooter style, seeing everything from the eyes of the titular Henry. Dude wakes up in some lab with his wife, gets superhuman prosthetics put on and it's go time.
If not for the early reviews, I would have been a little worried about the jarring effects of seeing the whole flick from Hardcore Henry's point of view. But after a few festival screenings, critics have shown love for what they've seen, and the movie is sitting at 89% on the Tomatometer with 20 reviews. Director Ilya Niashuller's first directorial work looks like it knocks it out of the park and may create a new run of similarly shot movies.
Rotten Watch Prediction
Comedies are tricky things. You need to typically toe a fine line between funny, crass, surprising and innovative while also be acceptable to the masses. I dare say, this one might do it. If the trailer's any indication, the team at The Boss uses it's could-be vanilla material (once great rich woman working to help a Brownie troop sell cookies) and ramps it up a notch. It looks over the top, but in a good way. This could be right in Melissa McCarthy's wheelhouse. I thought the trailer was hilarious.
Ben Falcone who also directed Tammy (23%) is back here helming this one and again working with McCarthy. They are a husband and wife team who have previously collaborated on Bridesmaids, The Heat and Identity Thief (most of which featured Falcone as an actor). I think they did just enough to take the jokes over the top (an all-out Brownie brawl being just one example) and I have a feeling it plays well enough with critics to get over the 50% mark, but doesn't wind up being a full-blown hit.
Rotten Watch Prediction
Want to know a bad sign for a movie? When you look at the production timeline on a flick and it started filming in December of 2013. Then it was set for release May of 2015. Then it was pushed back a year and it's not even showing up on the front page of Rotten Tomatoes in their "Coming Soon" section. These kinds of delays, plus financial issues, plus whatever the hell else pushes a film back years and years suggest that Before I Wake may not being the greatest thing ever put to celluloid. How do we know? Because good movies come out in theaters. Bad movies struggle to see the light of day.
The only thing giving Before I Wake a shred of hope, in my mind, is the director, Mike Flanagan. He has directed some strong work in the past, with films on his resume including Oculus (73%) and Absentia (86%). If it weren't for that, I'd put this new one in the teens. But he's got a resume, so there could be some redeeming aspects of a movie about a kid whose dreams become reality.

This poll is no longer available.

I was one for one with the predictions last week, though it is a hollow victory because it was a pretty easy guess to make. God's Not Dead 2 (Predicted: 10% Actual: 14%) was thrashed by the critics, and it really didn't come as any surprise. The trailer looked so pandering, one-sided, preachy and just flat out stupid. It makes total sense that the reviews that came in where they did. It finishes about as low as you'll see anything on the Tomatometer, and I don't need to spend too much time summing this up. Those on the Christian right will eat it up. Everyone else will hate it/ never care about it in the first place.
Next time around we've got Barbershop: The Next Cut, Criminal and The Jungle Book. It's gonna be a Rotten Week!
Doug began writing for CinemaBlend back when Terminator: The Sarah Connor Chronicles actually existed. Since then he's been writing This Rotten Week, predicting RottenTomatoes scores for movies you don't even remember for the better part of a decade. He can be found re-watching The Office for the infinity time.
Your Daily Blend of Entertainment News
Thank you for signing up to CinemaBlend. You will receive a verification email shortly.
There was a problem. Please refresh the page and try again.