This Rotten Week: Predicting The Switch And Piranha 3D Reviews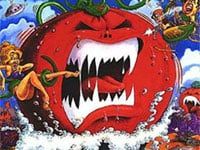 This week is a jam-packed experience. It's an absolute tour-de-force of boring, dumb and pointless. And while not all the films we're about to discuss will end up in the critical gutter, there isn't much at all to get excited about. This is a week that includes (Don't Call Me Lil) Bow Wow winning the lottery, a bunch of screaming kids, piranhas eating humans, vampires indeed sucking, and a little case of switched semen.
Ready for a truly Rotten Week? Here we go!
Piranha 3-D
You know what I think about when considering the 3D revolution? Piranhas of course. The more of those hyperactive fish I can see jumping (or swimming) off the screen the better. But in all seriousness, how freaking stupid does this movie look? It's about an ancient species of killer piranhas that are unleashed after an earthquake opened up a portal, ah f#$% it. Who cares? The piranhas look completely fake, Christopher Lloyd looks totally crazy, Ving Rhames puts a circular saw in the water to fight the little fishies, Richard Dreyfuss makes a return to fighting killer water creatures, a bunch of bikini clad Spring Breakers get eaten and we need to watch the whole thing with freaking 3D glasses on. Sigh.
The sad part is Piranhas 3-D will make a decent amount of cash at the theater because this is the kind of thing every 14 and 15 year olds beg their parents to let them see on a Saturday night. That said, it will be a critical mess. Director Alexandre Aja has proven he can make mediocre to bad horror movies (Mirrors 15%, The Hills Have Eyes 49%) and this one looks like it will fit nicely on a bookshelf next to the rest of his career. The Rotten Watch for Piranhas 3-D is 18%.
Nanny McPhee Returns
If this thing didn't have "Returns" in the title, I don't know if I would have had any idea there was an original Nanny McPhee or that she had in fact gone somewhere in order to then eventually, return. We have a little headstart with the Rotten Watch this week with Old Lady McPhee as there are over thirty reviews in already; and most are generally positive. That helps because director Susanna White is new to the game and the trailer looks basically like the British version of The Sandlot with a bunch of kids running around screaming the whole time.
But beyond the juvenile nature of the trailer, this movie actually has a pretty good cast. Emma Thompson's almost completely positive in her career Tomatometer. She's joined by others like Ewan McGregor, Maggie Gyllenhaal, and Ralph Fiennes. Interesting considering we barely see any of them in the trailer. Instead we get a bunch of kids running around chasing after pigs. But the critics already kind of like it, so what the hell do I know?
Nanny McPhee helps tame unruly kids by looking truly grotesque and using a little magic here and there. I don't know if the use of sorcery is the best way to teach kids how to behave, but I bet some parents out there wish it was an option. Nanny McPhee is using some magic of her own on the Tomatometer too. The Rotten Watch for Nanny McPhee is 79%.
Vampires Suck
Are you prepared for a truly mind blowing statistic? Jason Friedberg and Aaron Seltzer 's last four movies Date Movie, Epic Movie, Disaster Movie and Meet the Spartans have a combined (read again, combined) Tomatoemeter score of 12%. 12%!!!!! Out of 252 reviews for those flicks, exactly eight have been positive. That's good for an average of 3%. Wow. Wow. Wow. And you know what Seltzer and Friedberg do? They laugh all the way to the bank.
Their next installment in the spoof franchise that essentially spoofs other franchises concentrates its efforts on a very easy target: vampires. By the looks of the trailer, a group of 8th graders got together and helped with the writing process. Some of the jokes include a vampire imagining a girl's head as a Big Mac*, a Robert Pattinson look-alike shooting Alice down the rabbit hole, an "It's Raining Men" musical piece, and Jacob turning into a chihuahua. There you have it folks, the spoof masters have done it again. They've created something completely unredeeming.
*Coincidentally, this makes no sense even for a stupid movie. Wouldn't the vampire envision her as a blood bag or something?
I understand the studio logic, these films make money. Why not just keep pumping them out? Weird Al Yankovic made a career doing much of the same thing only with songs. The material will always be there. It's just a shame, especially with the amount of gold material the Twilight franchise has given the parody world, the jokes couldn't be a little better. The Rotten Watch for Vampires Suck is an all-time This Rotten Week low at 2%.
The Switch
Here is a nice little rule to live by when trying to decide which movie to go see in a theater, rent from Netflix or order OnDemand: if Jennifer Aniston is on the poster or box, that is an almost sure fire guarantee the movie completely sucks. In fact, we need to go all the way back to The Good Girl (81%) in 2002 to find something she's on the cover of that critics enjoyed. Before you kill me on Aniston, remember the distinction is that she needs to be on the movie cover. Marley and Me (62%) sports a picture of a dog and in Friends With Money she's turned to the side and kind of blends in with everyone else. So I stand by the Aniston Rule as it will now be called.
The Switch (aptly retitled from its original name The Baster) has Aniston, much like J-Lo in The Back-Up Plan, as a ridiculously hot woman who has problems getting a man to settle down with her and help her make a baby. The difference with Aniston is that, for her, the scenario is completely believable. She just can't keep a guy in her life. Oh and just to reiterate, she has trouble making good movies also.
The director team of Josh Gordon and Will Speck (Blades of Glory -69%) and Jason Bateman (sort of hit or miss critically) will help Aniston try to get off the schnide in her newest film. Unfortunately, I just don't see it happening. The Rotten Watch for The Switch is 42%.
Lottery Ticket
I went into this trailer fully prepared to begin dumping hate all over Bow Wow and his adventures in winning the lottery. And while I don't think the movie looks like any great shakes, it also didn't appear to be totally unwatchable. That is why it's important to keep expectations low at all times. Then there's nowhere to go but up. Don't get me wrong, Lottery Ticket will be pretty bad, it just won't be the worst this week has to offer.
Bow Wow (man I can't believe I keep typing that as someone's name) isn't the worst actor in the world and is joined by one of the most interesting ensemble of cast names to hit a movie in quite some time. Other names appearing in the credits are Ice Cube, T-Pain, Lil Twist and Gbenga Akinnagbe. And while their names are a bit odd, these guys and the rest of the cast can actually move around the screen without stinking up the joint. When looking for any positives, these kinds of things are important.
Lottery Ticket, directed and written by a couple of newbies in Erik White and Abdul Williams respectively, will probably touch some hearts, earn a few laughs here and there and make it so Bow Wow does something positive with the money in the end. I guess that ought to be good enough. The Rotten Watch for Lottery Ticket is 37%.
Swipe to scroll horizontally
This poll is no longer available.
Recapping last week: Eat Pray Love (Predicted 73%, Actual 38%) was a pretty large miss considering I chose to just basically ignore director Ryan Murphy's last stab at making a memoir into a film in Running With Scissors (30%). Julia Roberts wasn't enough to save the film and critics just weren't on board with the story of a woman's quest to find herself. Meanwhile, < I>The Expendables (Predicted 52% Actual 42% ) and Scott Pilgrim vs. The World (Predicted 77% Actual 80%) were nice additions to the Rotten resume even if I did have a little head start on both.
Next week Chris Brown robs banks while an exorcism gets performed for the last time. It's going to be a Rotten Week!
Your Daily Blend of Entertainment News
Doug began writing for CinemaBlend back when Terminator: The Sarah Connor Chronicles actually existed. Since then he's been writing This Rotten Week, predicting RottenTomatoes scores for movies you don't even remember for the better part of a decade. He can be found re-watching The Office for the infinity time.