Rupert Sanders Will Not Direct The Snow White And The Huntsman Sequel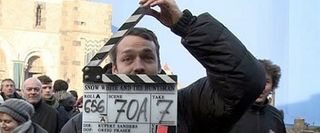 Newly minted film director Rupert Sanders has had a pretty incredible year with some major highs and lows. A celebrated director of television commercials, Sanders made his feature debut this past June with Universal Pictures' big budget action adventure Snow White and the Huntsman. While critics—myself included—panned the film for its nonsensical plot and dour execution, the CGI-stuffed reimagining of the classic fairy tale went on to earn nearly $400 million dollars worldwide. So, Sanders' first film was a success for Universal, and plans for a sequel were in the works within weeks of its opening weekend.
Things were looking up for Sanders, and his leading lady Kristen Stewart, who showed she had box office drawing power outside of the Twilight franchise - but then those photos hit. The scandal that followed was fast and furious with Stewart bearing the brunt of the bad press. In August, while rumors arose that Universal might dump their in-the-works Snow White sequel, Sanders was still attached to the project. But now, Radar Online says Stewart is signed on for the sequel, but Sanders is definitely out.
Their source claims Sanders bowed out of the project "because he is desperately still trying to save his marriage," but it's worth pointing out that Sanders has been offered other projects, which may just seem more appealing after all that's gone down. Despite the bad press Sanders and Stewart's affair brought on, Universal hasn't burned their bridges with the helmer, and as of last month it was said the studio was considering him for their Tom Cruise-fronted Van Helsing reboot. Just days later, Sanders signed on to direct a science fiction tinged romance called The Juliet for Sony. Production on that film is set to begin in the spring, so it's possible that Sanders' schedule won't allow for him to helm the second Snow White.
The Snow White And The Huntsman sequel is expected to go into production late next year. Universal is reportedly on the hunt for a new director.
Staff writer at CinemaBlend.
Your Daily Blend of Entertainment News
Thank you for signing up to CinemaBlend. You will receive a verification email shortly.
There was a problem. Please refresh the page and try again.