Russell Crowe To Direct Surfer Movie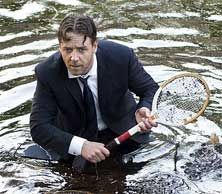 There are two things that should be obvious to everyone about Russell Crowe. The first is that he is a tremendous actor and the second is that he is a tremendous egomaniacal dickhead. As is often the case with egomaniacal dickhead actors, Variety reports that what Crowe really wants to do is direct. He will direct a film called Bra Boys for Universal and Imagine Entertainment.
Bra Boys is not, as you might think, a movie about transvestites. It is about surfers who live in the Australian suburb of Maroubra. The counterculture wave riders were the subject of a documentary, also called Bra Boys, that will be the basis of Crowe's film. The documentary focused on the three brothers who began the large, rowdy group.
Now, we all know that Crowe can do anything he puts his mind to. His band, 30 Odd Foot Of Grunts, took the music world by storm winning 15 Grammy Awards, including best Salsa album. But in this case he will have the help of super-producer Brian Grazer and the script will be written by Collateral wordsmith, Stuart Beattie. Still, this whole project sounds a lot like the turning of excellent skater documentary Dogtown and Z-Boys (narrated by another great actor/dickhead, Sean Penn) into the crummy movie The Lords of Dogtown.
Your Daily Blend of Entertainment News
Thank you for signing up to CinemaBlend. You will receive a verification email shortly.
There was a problem. Please refresh the page and try again.