Sam Flynn Gets His Own Tron: Legacy Poster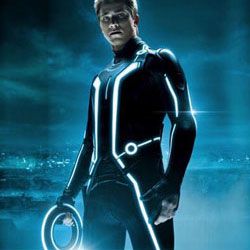 If ever another movie has released this many official posters I can't name it. Disney has been nothing short of relentless with promotion for their upcoming, 20-years in the making sequel Tron: Legacy, especially in the one sheet department.
Not ready to stop, yet another banner has been released by the mouse to ComingSoon, this one showing off less action and more anticipation. Garrett Hedlund stands alone in this alien world, ready to compete and save his father, lost in the computer world since the 80s. It's a cool poster, but doesn't really give us anything new, which hopefully means they're running out of promotional material and will hang on to the rest of the good stuff until we get closer to the movie's December 17th release date.
Scope out the image below or in glorious hi-res over at ComingSoon.
See all the Tron: Legacy posters and images released so far in our complete, high-res image gallery here.
Your Daily Blend of Entertainment News
Thank you for signing up to CinemaBlend. You will receive a verification email shortly.
There was a problem. Please refresh the page and try again.