Sam Raimi Could Be The Man Behind The Curtain On Disney's Wizard Of Oz Prequel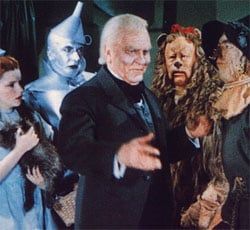 Now that Alice in Wonderland has done the successful retread, everyone's hot to cash in on reboots of The Wizard of Oz. Several different studios have Oz related projects in development, but the one we're most interested in is at Disney, and it could end up being directed by Sam Raimi.
NY Mag says the Spider-Man director has been offered Oz the Great and Powerful, Disney's prequel which would tell the story of how the Wizard came to Oz and ended up ruling in the Emerald City. What remains unclear is whether Raimi actually wants to do it. He has several different projects in varying stages of development, and Warner Bros. has already hired him to develop a movie based on World of Warcraft. Warcraft, however, wasn't supposed to be done until after Spidey 4 and now that Raimi isn't doing Spidey 4 it's conceivable that he could squeeze Oz in before it.
Oz seems like the perfect world for Raimi to play around in. But then, so does Warcraft. Hang around and we'll find out what he decides, together.
Your Daily Blend of Entertainment News