Sam Rockwell Back In High School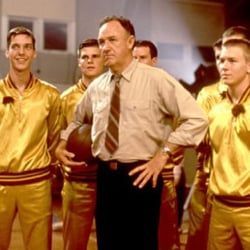 Sam Rockwell: isn't he a big deal already? It seems like everyone's spent the last two years writing about how he's going to be a big star, and with Choke on the horizon, maybe it will finally be his chance. But for now he's sticking with the indie movies that have made his name; he's signed on to The Winning Season, a movie that sounds less like an indie comedy than a completely typical high school movie.
Even the title should tell you everything you need to know. As described by The Hollywood Reporter, Rockwell plays a down-on-his-luck basketball coach who has a shot at redemption--no, that's really part of the description-- when he's asked to coach the high school girl's basketball team. Emma Roberts, formerly known as Nancy Drew, will be one of the players, and Rob Corddry plays the principal-- how much do you want to bet he's initially skeptical of Coach Rockwell's ability, but eventually comes around?
Because the movie is described as a comedy, it could potentially be a parody of the usual high school sports movies. Rockwell and Corddry are both uniquely talented at bringing a bit of chaos into their roles, so it's unfair to assume they'll automatically resort to bland. We may get something more like Hamlet 2 than Hoosiers, but still, the whole project is more than a little confusing.
Your Daily Blend of Entertainment News
Staff Writer at CinemaBlend