San Diego Comic-Con Fills Its Weekend Schedule With Marvel Studios, The Hobbit, And More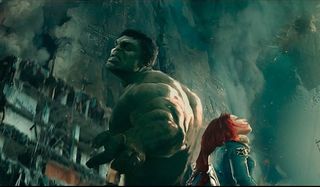 The Cinema Blend offices have been buzzing these past few days as we all get ready for one of the biggest events of the year in our industry: San Diego Comic-Con. The massive geek-fest will be kicking off on July 23rd, and just like every year we will once again have a team on the ground (including myself) covering the expo. We're going to see a ton of cool, early, footage, talk with some interesting filmmakers and actors, and deliver it all straight to you. Now we can give you a wider look at some of the stuff that the movie section will be bringing to you.
While we brought you the Thursday schedule earlier in the week, the official San Diego Comic-Con website has now unveiled exactly what's in store for Friday, Saturday and Sunday. To give you a clearer picture of what's going on film-wise, we've cut through all of the various panels, presentations and events and focused in on the big movie-related events you'll find during the convention. Are you excited for some Avengers: Age of Ultron action? Will the people behind Batman v Superman: Dawn of Justice be on-hand? Read on to find out!
Friday, July 25th
Friday is a big day for television in Hall H, with big shows like Game of Thrones and The Walking Dead both grabbing the early afternoon hours on the expo's biggest stage, but there's plenty of movie action happening after as well. Harry Potter himself, Daniel Radcliffe, will be present with filmmakers and co-stars of Horns, the adaptation of Joe Hill's novel, and that presentation will be followed by showings from 20th Century Fox and Kevin Smith's new movie, Tusk (kinda strange to have Horns and Tusk on the same day, no?).
Exactly what Fox has planned is more of a head scratcher. You'll notice that the official description below doesn't include any details, but we have confirmed the presence of films including The Maze Runner, Book of Life, Hitman: Agent 47, Let's Be Cops, and Kingsman: The Secret Service. But could The Fantastic Four be making an appearance as well? We'll have to wait and see.
Saturday, July 26th
San Diego Comic-Con has a history of loading the Saturday schedule with plenty of big screen goodies – especially in Hall H – and it doesn't appear that 2014 will be a disappointment in that regard. In addition to solo-movie presentations like Boxtrolls and Sin City: A Dame To Kill For, the day is also scheduled to see unveilings from Warner Bros. Pictures (which has confirmed at least three panels for three different titles), Legendary Pictures, and Marvel Studios.
This day, of course, is all about the superheroes. We have been hearing some big rumors about what WB has planned for their DC Cinematic Universe – including Batman v Superman: Dawn of Justice - and we fully expect at least a few reveals and announcements about The Avengers: Age of Ultron, Ant-Man and more from Marvel.
Sunday, July 27th
If you go to peruse the Sunday schedule for panels and presentations from major studios and blockbusters, you're going to notice that the events are few and far between. Shows like Supernatural, The Following, Sons of Anarchy, and The Strain will occupy Hall H all day, so you'll need to look elsewhere for feature-centric entertainment.
Going into some of the smaller presentation rooms you'll find people gathering to learn more about the documentary made about Batkid, the young kid who had his wish granted to turn a section of San Francisco into Gotham City. There is also something happening for fans of The LEGO Movie, just in case you can't get enough of that absolutely awesome film.
NJ native who calls LA home; lives in a Dreamatorium. A decade-plus CinemaBlend veteran; endlessly enthusiastic about the career he's dreamt of since seventh grade.
Your Daily Blend of Entertainment News
Thank you for signing up to CinemaBlend. You will receive a verification email shortly.
There was a problem. Please refresh the page and try again.