Saoirse Ronan Joins The Love Triangle In Emma Thompson's Effie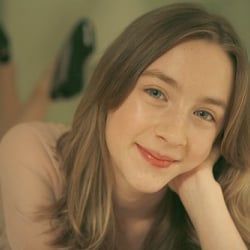 For a while Carey Mulligan was "attached," as she was to so many other projects that never came to fruition, to Emma Thompson's Effie, a biopic about the 19th century scandalmaker who married famous writer John Ruskin only to annul her marriage to him and run off with his protege, pre-Raphaelite painter John Everett Millais.
Even though Mulligan is only 25, though, she's been traded in on this one for a younger actress-- though in this case it's far more appropriate to the story. Production Weekly reports that Saoirse Ronan is instead set to star in the film, which Thompson wrote and will also play a small role in. The film also now stars Orlando Bloom and Greg Wise-- presumably as the two other corners of the love triangle, with Bloom as the younger painter Millais and Wise as Ruskin-- and Imelda Staunton in an unspecified role. Yes, both of these actors are way, way too old to be romantic leads to the 16-year-old Ronan, but that's pretty true to the historical record; Effie Gray was only 17 when she married 31-year-old Ruskin. Bloom is still a little too old to play Millais, who was the same age as Gray, but casting her opposite an older actor will help age up Ronan, who will need to play Gray at age 23 as well.
Effie will be Thompson's first non-Nanny McPhee screenplay since the 2001 effort for the TV film Wit, and given that she won an Oscar for her 1995 Sense and Sensibility screenplay, there's good reason to look forward to her return to the page. Between the fascinating love triangle story and the remarkable cast, Effie sounds like something every prestige film nerd should look forward to while the rest of you salivate over Avengers casting rumors.
Staff Writer at CinemaBlend
Your Daily Blend of Entertainment News
Thank you for signing up to CinemaBlend. You will receive a verification email shortly.
There was a problem. Please refresh the page and try again.