Saoirse Ronan Will Kick Your Ass In Hanna Trailer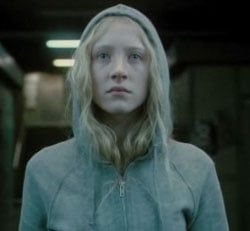 Saoirse Ronan is fast on her way to being the most mispronounced household name in the industry. She became one of the youngest actresses ever to be nominated for an Oscar for her role in Atonement in 2007, then went on to make City of Ember and The Lovely Bones watchable rather than total messes. She has an innocence about her (it's her eyes) that can rarely be found. It's exactly that which makes her the perfect, unsuspected killing machine she is in Hanna.
This trailer for Joe Wright's film has plenty of issues - not the least of which are the 900 accents you hear in this two minute look - but they're all overshadowed by Ronan's cold stare as she kills the shit out of everyone in her path without batting an eyelash. It's not something you'd expect from a girl of her stature and so far it's working out. Eric Bana and Cate Blanchett fill the supporting roles.
Scope out the trailer below, courtesy of Yahoo! Movies.
Your Daily Blend of Entertainment News