Scott Pilgrim Vs. The Reshoots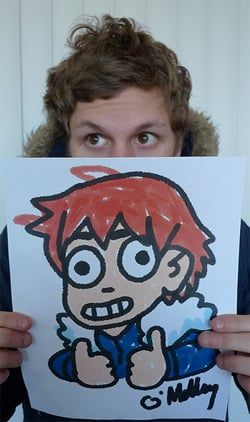 Edgar Wright wrapped up principal photography on Scott Pilgrim vs. the World almost a year ago and has been in an editing cave ever since. The film is reportedly testing well with audiences, but the director has decided that three days of reshoots will be the "icing on the cake".
The effects-heavy adaptation of Bryan Lee O'Malley's graphic novel stars Michael Cera as Scott Pilgrim, who has to defeat the seven evil exes of his latest love interest. The reshoot news dropped over at Production Weekly's Twitter and was expanded upon when CHUD was able to get a hold of Wright via email. The reshoots stem from new material available in the graphic novel series finale, Vol. 6, which is publishing this summer. The Shaun of the Dead director explains:
The e-mail is devoid of spoilers for the sake of the comic's loyal readers who are patiently awaiting the summer release of this final volume, as well as those who are trying not to spoil any of the movie for themselves. Scott Pilgrim already looks like it's going to be one of this summer's most fun films, and with Wright spicing it up at zero hour, we can be sure it'll be a favorite.
Scott Pilgrim vs. the World hits on August 13th, which happens to be a Friday.
Your Daily Blend of Entertainment News