See Cate Blanchett As Bob Dylan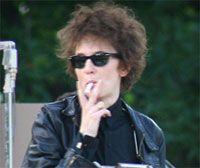 In case you haven't heard, Cate Blanchett is playing a man in the Bob Dylan biopic I'm Not There. Not just any man mind you, but Dylan himself. Actually, the movie has six different actors playing Dylan including the likes of Christian Bale, Richard Gere, and Heath Ledger. If you're wondering how that's going to work, here's your first clue.
A video clip, showing Blanchett working a curly-haired wig in a scene as Bob Dylan has popped up on the web. The clip shows Blanchett as Dylan, interacting with poet Allen Ginsberg as played by David Cross. Both really do look their parts, but as for whether or not Blanchett is any good playing a dude… I need to see more. It's too hard to tell.
Check out the clip embedded below, and see if you can get any more out of it:
Your Daily Blend of Entertainment News
Thank you for signing up to CinemaBlend. You will receive a verification email shortly.
There was a problem. Please refresh the page and try again.