No Sequel For Seven, David Fincher Guarantees It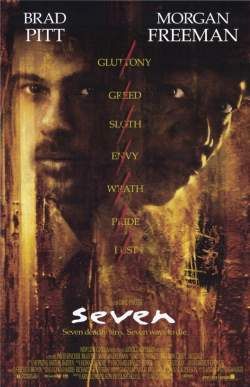 The notion of a sequel to Seven, David Fincher's disturbing, brilliant serial killer drama, is news to me. Apparently it's also news to David Fincher. At a Q&A session with the director at Lincoln Center tonight, an audience member asked him about the possibility of a sequel to the movie that made generations terrified of Kevin Spacey. And luckily for all of us, Fincher wasn't having any of it.
"I would have less interest in that than I would in having cigarettes put out in my eyes," Fincher said, to big laughs and a round of applause. I don't think that means he has any ill will toward his 1995 movie, though he said earlier in the evening that there are parts of both Seven and Fight Club that makes his skin crawl. More likely, Fincher thinks-- like all sane people should-- that a sequel to Seven would be impossible, and pretty much everyone who was involved would be better off working on something new.
Fincher is reteamed with Seven star Brad Pitt at the moment with The Curious Case of Benjamin Button, which was the main topic of conversation at the Lincoln Center talk. Check back for more from Fincher later this week.
Your Daily Blend of Entertainment News
Staff Writer at CinemaBlend