Seth Rogen's Cancer Comedy Retitled 50/50, Set For September 30 Release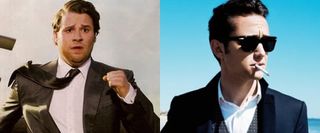 The drama known in previous incarnations as I'm With Cancer and Live With It, starring Joseph Gordon-Levitt as a young man coping with the illness and Seth Rogen as his best friend, has been retitled 50/50, and set for a September 30 release date according to The Wrap. It's the next film from The Wackness and All The Boys Love Mandy Lane director Jonathan Levine, and also stars Anna Kendrick, Bryce Dallas Howard (both of them veterans of Summit's cash-cow Twilight franchise) and Anjelica Huston.
It was hard to predict a release strategy for the film, given that it's a drama with comedic overtones-- always hard to market-- and stars Rogen and Gordon-Levitt, both of them successful in various ensemble films but not necessarily up to the task of carrying movies on their own. The Green Hornet's remarkable $200 million worldwide gross probably gave the studio a lot more faith in Rogen, and Gordon-Levitt's got both the Inception bragging rights and that forthcoming mysterious role in The Dark Knight Rises. September 30 seems like a great spot for the film, early enough in the fall season to escape awards chatter, but beyond the dead zone of late August and early September. Given that Rogen's a hometown boy, it wouldn't surprise me to see 50/50 show up at the Toronto International Film Festival earlier that month.
Staff Writer at CinemaBlend
Your Daily Blend of Entertainment News
Thank you for signing up to CinemaBlend. You will receive a verification email shortly.
There was a problem. Please refresh the page and try again.