The Seventh Son Box Office Numbers Are Even Worse Than Expected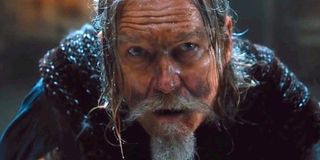 Nobody likes a box office bomb. Alright, maybe that's not true. Some people love seeing giant movies fail miserably. The same, however, cannot be said for the studios behind these mega-pictures, the latest of which The Seventh Son, just opened this weekend to very low numbers. Not only are the numbers disappointing, they're far worse than anyone could have expected.
The Seventh Son is Universal-Legendary's latest epic fantasy pic to hit the big screen. It opened this past Friday and preliminary numbers have begun rolling in, revealing its estimated meager $7.1 million dollar take. Opening at a fairly large number of locations (2,875 to be exact), this is not just like a little bump in the road for the massive movie but rather like a giant boulder on its way to being pushed off a cliff.
If you're finding yourself asking "what the heck is The Seventh Son?" right now, you're probably not alone as, it's probably the first you've heard of the movie. It seems like marketing has been almost non-existent and probably for good reason. As it turns out Thomas Tull, CEO of Legendary Entertainment, had begun bracing himself for this terrible disaster back in 2013.
According to Variety, the company has been dealing with issues related to the film ever since production started on it back in 2012. The film, budgeted at around $95 million, has officially had four different release dates, one of which was due to post-production delays when its visual effects partner went bankrupt, another one a result of the picture going into limbo when Legendary severed ties with longtime partner studio Warner Bros. This is the second big 2015 flop for Tull, who was also behind Michael Mann's $70 million dollar Chris Hemsworth-driven cybercrime thriller Blackhat, which only brought in $14 million since its release in January. But it's not all bad news for the action/adventure film as it has already racked up $82 million overseas, including $25 million in China and another $15 million in Russia.
The Seventh Son follows the young Thomas Ward, a seventh son of a seventh son, as he is apprenticed to the local Spook to master the art of fighting evil spirits. His first mission is to face the hellishly hostile witch Mother Malkin, who escaped imprisonment by morphing into the form of a dragon to break free from confinement. Check out its trailer below.
The film stars Jeff Bridges, Ben Barnes, Julianne Moore, Djimon Hounsou and Kit Harington. The script was written by Charles Leavitt and Steven Knight (based on the novel The Spook's Apprentice by Joseph Delaney) and was directed by Sergei Bodrov. If you like massive, epic adventure-fantasy films with tons of special effects, The Seventh Son has got you covered. And with Bridges looking like a cloaked and bearded medieval knight with an accent sounding reminiscent to Bane from The Dark Knight Rises, what more could you ask for? Check out The Seventh Son in theaters now.
Your Daily Blend of Entertainment News