Shrinking Charlotte Adds Kathleen Turner And True Blood's Shapeshifter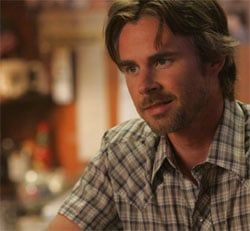 Shrinking Charlotte, a rom-com affair centered around a psychologist who falls for one of his patients, has just picked up a number of cast members. The film, which has been sidelined for some time due to headliner Brittany Murphy's sudden passing last year, finally looks to be gaining some traction.
True Blood fans will be happy to hear that Whats Playing says Sam Tramell, who plays the shapeshifting Sam Merlotte on the HBO vampire series, has been tagged as Charlotte's male lead. This will be his first starring role since joining the show in 2008. Kathleen Turner, who I best know as the voice of the unforgettable Jessica Rabbit in Who Framed Roger Rabbit, will also be joining the cast.
There was a time when Kathleen Turner rode a wave critical acclaim for her roles in films such as Body Heat and Romancing the Stone, but in the past decade she's spent most of her time on television. You might have noticed her name in the credits on shows like King of the Hill, Friends, and Californication.
Freddy Rodriguez, who played El Wray in Planet Terror, and Fred Willard, who most people probably know from at least one of Christopher Guest's mockumentaries, have also been attached to Shrinking Charlotte. Actresses rumored to be interested in taking over Brittany Murphy's role include Amy Smart and Kate Mara.
Your Daily Blend of Entertainment News
Thank you for signing up to CinemaBlend. You will receive a verification email shortly.
There was a problem. Please refresh the page and try again.