Side Effects Writer Calls It A Sort-Of Sequel To Lolita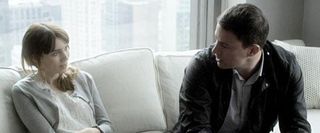 We're still hoping Steven Soderbergh's retirement isn't final, but if it is, the twisty drama Side Effects will be his last film. Starring Rooney Mara, Jude Law and Channing Tatum, the story centers on an anxious young woman who is urged by her doctor to take anti-depressants, a decision that the film's first trailer suggests leads to murder that could shakeup the medical and pharmaceutical communities.
However, Side Effects screenwriter Scott Z. Burns says the premise of Soderbergh's latest is not so simple. "If you believe that's what the trailer says, I'm not going to disabuse you of that," Burns told EW, "But I think there's two or three more layers on top of that."
Troubled by the current climate where anti-depressant drugs are overwhelming prescribed to depressed and anxious patients, Burns decided to tackle the topic in a script, saying, "The fact that the medical community doesn't even know how these drugs work, it becomes an area that I think is ripe for some pretty interesting stories." He was reluctant to drop details about the plot, though he teases that the exploration of how character is altered by the drugs, and describes he and Soderbergh's efforts as "sort of in the tradition of a Hitchcock mindfuck."
But Hitchcock isn't the only name Burns is dropping. He also claims he found inspiration in Roman Polanski's film Repulsion and Vladimir Nabokov's controversial classic novel Lolita, going so far as to call Side Effects "in some ways a kindred spirit and sequel to what Nabokov may have been doing in Lolita."
Burns's statements are fascinating; because ultimately they give little away about the film itself other than it will be mind-bending. For one, consider the Hitchcock comment. That auteur most famously threw audiences for a loop with Psycho, where he abandoned what seemed to be his film's protagonist on the bloody bathroom floor before pursuing the mystery of who killed her. How this kind of "mindfuck" translates to Side Effects is currently unclear.
As to Repulsion, that psychological thriller centers on disturbed young woman who turns killer when traumatic childhood memories surface, but it's unlikely Burns would reference the film if the similarity to Side Effects was so basic when he's being so elusive on plot specifics. More likely, it'll have the jarring aspect of a beautiful young woman who is pained and unknowable as he expresses, "The operating principle [is] that it's really hard to know what goes on inside another person."
Finally, parsing his Lolita comment is the trickiest of all, even when he goes on to clarify, "Obviously Rooney isn't that young; she's not a teenager in this movie. But I think that when girls get sexualized as teenagers and then they get older, there's a whole set of behaviors that they learn that allow them to manipulate the world around them. And they're given those tools largely by men who want to be manipulated."
Lolita is a tricky book to read as the narrator is a child molester who winds a story of romance and adoration in hopes the audience—his jury—will not judge him too harshly. He paints himself as a tragic romantic figure, and his victim as a willing and even manipulative—and thereby powerful—participant. But despite its title, it is not Lolita's story, as we never get her perspective. Instead, it's the story (or justification) of her tormenter. Of course, this is my reading on the book. Based on his quote, Burns' take seems to believe Lolita did play into the hands of her tormenter, perhaps as a survival tool?
All in all, this talk seems sure to make cinephiles salivate, but it's difficult to discern what it all means in regards to Side Effects. And we won't really find out until the film opens February 8th.
Staff writer at CinemaBlend.
Your Daily Blend of Entertainment News
Thank you for signing up to CinemaBlend. You will receive a verification email shortly.
There was a problem. Please refresh the page and try again.