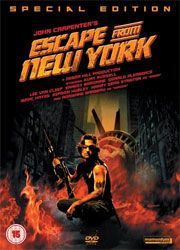 Gerard Butler charged theaters this past weekend as King Leonidas in 300 and made the film a box office success. So what do you do next after your film opens with the largest opening of the year so far? Pretty much whatever you want. Which explains the rationale behind the news behind Butler's next career move.
According to Variety, Butler is poised to take the lead in a remake of John Carpenter's Escape from New York. Yes, that's right – Snake Plissken is returning, but sadly in a remake instead of a new adventure. So far remaking Carpenter's cult classics hasn't proven entirely successful (see: Assault on Precinct 13, The Fog) so I can't say I have high hopes for a remake of Escape, especially since this is the granddaddy of all of Carpenter's cult flicks.
Still, on the somewhat positive side, if any actor around were to try and fill Kurt Russell's tank top and eye patch, Butler is probably a good choice. He can pull off that rugged anti-hero shtick rather easily, so I have no doubt Butler can play the role. The question then becomes whether a remake can succeed. I'd much rather see them carry the character on to a new adventure than a rehash of what we've seen before.
Because of 300's $70 million opening, studios are already battling it out over the production rights to Butler's film, which will be written by Black Hawk Down author Ken Nolan and produced by Neal Moritz. Expect a studio name to be officially attached before the week is through.
Your Daily Blend of Entertainment News