Sneak Peek At Sofia Vergara In Machete Kills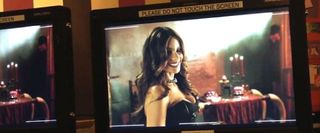 For the sequel to his Grindhouse spin-off Machete, Machete Kills, director Robert Rodriguez has stuffed his cast with male stars who exude an unhinged sense of menace (Danny Trejo, Charlie Sheen, and Mel Gibson) and female stars who exude and unquestionable sex appeal like Jessica Alba, Amber Heard, and Sofia Vergara. Even the mention of these attractive actresses is sure to have some salivating in eager anticipation of a glimpse of their sure-to-be snug and skimpy costumes, so it's a bit surprising that the first look of Vergara's comes from her son, Manolo Gonzalez.
The 20-year-old Gonzalez has been chronicling his life with the web series My Vida con Toty. On the most recent episode, he took his camera to the set of Machete Kills. Amid his gushing about meeting Rodriguez and Trejo, and cringing over his mother's overtly sexual performance, Gonzalez revealed a peek of Vergara as a leather-bound dominatrix with a fearsome reputation called Madame Desdemona, some of her sexy supporting cast, as well as some enviable Machete swag sneakers. Unfortunately, the video has since been marked private, but you can get a look at some screengrabs below.
Much of the images from Gonzalez's video seem to be on the same set, which we can safely assume is the bordello that is Madame Desdemona's dominion. Below you can see some of the working girls this dominatrix-styled madame supervises.
Here Vergara can be seen rehearsing with Trejo for a scene that appears to follow the exit of her girls.
This is a scene that gets replayed three times in Gonzalez's vid, wherein Vergara--brandishing a whip and wearing a corset--explains with a breathy tenor that she's been called a man-eater since she was a girl.
The next shot is brief, but contextually seems to suggest Rodriguez is prepping Vergara for a stunt that'll involve her falling or flying out that window.
And finally, when capturing a bit of behind-the-scenes fun, Gonzalez showed us a glimpse of these badass hightops that feature a sneering Machete. Hopefully these aren't just swag for the cast and crew, because I'm sure plenty of rabid fans of Rodriguez and/or Trejo would proudly wear these out.
Machete Kills is now filming, and is expected to hit theaters in 2013.
Your Daily Blend of Entertainment News
Staff writer at CinemaBlend.
Your Daily Blend of Entertainment News
Thank you for signing up to CinemaBlend. You will receive a verification email shortly.
There was a problem. Please refresh the page and try again.