Soderbergh's Haywire Trailer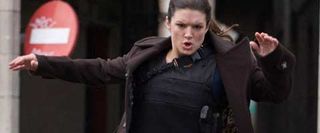 SDCC is in full swing and continues to feed us hot, fresh information direct from the source--the filmmakers. Steven Soderbergh (Ocean's 11, The Informant) arrived to show off this flashy new trailer for his upcoming action thriller Haywire. The film stars MMA powerhouse Gina Carano, or Crush from the latest iteration of American Gladiators, who is a government killing machine, betrayed by her handlers and left for dead.
Shockingly (read: obviously), she's not dead and is out for blood against those who have wronged her. Scope out the trailer below.
The flick also stars Channing Tatum, Ewan MacGregor, Michael Fassbender, Michale Douglas, and a host of others. Soderbergh is no stranger to ensemble casts though, so expect this to be a well managed cast of characters.
Earlier this year, the Ocean's 11 director announced on Rich Eisen's podcast that he'd be retiring from filmmaking. At 48 years old and at the top of his game, it was hard for us to buy that he'd just walk away. In April it was announced that he'd be directing a film called Magic Mike with Channing Tatum. Taking on more work doesn't sound like something a quitting director would do.
At the Haywire panel this afternoon, a Q&A session was held and a fan asked about his alleged retirement. Apparently Soderbergh never meant his comments to mean that he was quitting, and he was not psyched to still be hearing that the rumor was still floating around. With three films in pre-production, one in post, and one nearing release, it seems like that should be enough to prove that he's still working, and still enjoying himself.
Haywire looks like it will be big fun when it releases January 20, 2012, and if it's not, then well you spent $10 to look at Gina Carano for two hours, and there are worse ways to spend a Saturday afternoon.
Your Daily Blend of Entertainment News
Thank you for signing up to CinemaBlend. You will receive a verification email shortly.
There was a problem. Please refresh the page and try again.