Soderbergh's Next Will Star An American Gladiator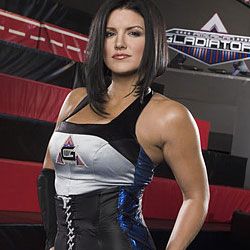 With The Informant! due out soon, director Steven Soderbergh is lining up his next project. Variety says he's staying within the spy genre to make a thriller called Knockout.
Don't expect more Matt Damon though. Soderbergh is casting an acting newbie, a mixed-martial arts fighter and former American Gladiator named Gina Carano, as his lead. She plays a girl from the wrong side of the tracks given a second chance. She puts her fighting skills to use for more constructive purposes. This may sound a lot Vin Diesel's xXx, but odds are it'll be more like Tarantino's Death Proof.
Soderbergh has made his obligatory semi-annual Hollywood movie in The Informant, and with an unknown in the lead, this smells like yet another return to making experimental movies that no one wants to see. Plus it was written by Lou Dobbs, who also wrote The Limey, one of Soderbergh's more experimental, lesser known movies. Most recently he got experimental with The Girlfriend Experience. Raise your hand if you saw The Girlfriend Experience. Yeah, I'm the only one with my hand up for a reason. For The Girlfriend Experience he hired a porn start to play a prostitute and now for Knockout he's hiring a fighter to play a fighter.
Knockout doesn't have distribution yet, but since it's produced by Relativity Media, maybe it won't end up in the Magnolia Pictures On Demand obscurity bin The Girlfriend Experience got lost in.