Sony Recruits Conan Writers To Pen Uncharted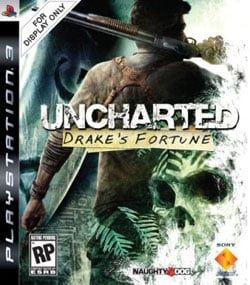 Back in June we first learned of Sony's plan to bring the megahit PS3 game Uncharted: Drake's Fortune to the big screen and that Kyle Ward was hired to pen the screenplay. Also in June, word spread that Ward was tapped to write Hitman 2. According to Latino Review, the Hitman commitment is far too demanding and Sony decided to swap writers.
The studio dropped Ward and picked up Thomas Dean Donnelly and Joshua Oppenheimer, the duo responsible for writing the new Conan movie. Sony and producer Avi Arad consider Uncharted a top priority and wanted writers available immediately.
For those of you who aren't gamers, Uncharted: Drake's Fortune is a massive success. Uncharted sold over 2.6 million copies and Uncharted 2: Among Thieves, which was release just last month, already sold over a million units. In Uncharted: Drake's Fortune, the descendent of explorer Sir Francis Drake, Nathan Drake, sets out to find the lost treasure of El Dorado. Think Tomb Raider but minus Angelina Jolie and plus Brad Pitt. Drake has to battle a slew of mutated creatures and his treasure-hunting adversary to get to the golden city.
I'm not much of a game enthusiast, but Uncharted's reputation of being one of the most cinematic games out there makes me eager to see this adaption develop. Casting should be particularly exciting. It'd be fun to see the other half of Brangelina get a videogame-to-film gig of his own, but I have a feeling they'll go for someone younger. Sam Worthington perhaps?
Staff Writer for CinemaBlend.
Your Daily Blend of Entertainment News
Thank you for signing up to CinemaBlend. You will receive a verification email shortly.
There was a problem. Please refresh the page and try again.