Spielberg's War Horse Charges Onto Blu-Ray And DVD This April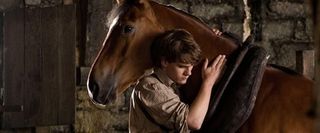 Earlier this week we detailed the upcoming home video release of The Adventures of Tintin, and now we've got the lowdown on Steven Spielberg's other big release from this past holiday season. Spielberg's epic WWI flick War Horse is set for an April 3rd release courtesy of Walt Disney Studios Home Entertainment. Fans who were hoping for behind-the-scenes insight will find plenty of extras to chew on, although sadly no Spielberg commentary.
War Horse will be arriving in the usual cornucopia of different formats, both physical and digital. The top-of-the-line option will be the four-disc Blu-ray combo pack, which will list for $45.99 and include all the available bonus features. You can also opt for the two-disc DVD ($39.99) or single-disc DVD ($29.99) versions. The press release doesn't specify which bonus features will be included on these, but presumably at least the two-disc version will have some...otherwise, why two discs? If you're conserving shelf space, you'll also be able to grab a digital copy of War Horse in either high-def ($39.99) or standard-definition ($29.99). And yes, it does seem a little ridiculous that the high-def digital version is only six bucks cheaper than the fancy four-disc combo pack.
So what about the bonus features? The keystone is a 60-minute making-of documentary created by Spielberg. You'll also get to check out "a behind the scenes look at Spielberg's Award-Winning 'Dream Team'": a scoring session with composer John Williams, a look at the film's editing with film editor Michael Kahn, a trip inside the sound room with sound designer Gary Rydstrom, and a visit with producer Kathleen Kennedy as she takes you on a tour through photos taken during the filming of War Horse.
Image 1 of 3
Your Daily Blend of Entertainment News
Your Daily Blend of Entertainment News
Thank you for signing up to CinemaBlend. You will receive a verification email shortly.
There was a problem. Please refresh the page and try again.