The Star Wars 7 Wrap Party Sounds Like A Great Time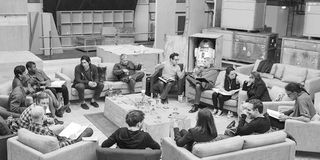 If ever you needed final proof that Star Wars: Episode VII is a real movie, which will one day come out of in theatres, in this galaxy, then look no further than the Instagram evidence of a glitzy wrap party. Having spent the past few months shooting around the UK, the cast and crew threw it down at London's Science Museum (how fitting) on Saturday night to celebrate completion of the eagerly-awaited film.
Despite some outlets pointing out that the party was a little premature (there's apparently still a few more days shooting to go), pretty much everyone from the cast made an appearance, from old Star Wars favorites like Harrison Ford, Carrie Fisher, and Mark Hamill, to galaxy newbies like Daisy Ridley, Andy Serkis and John Boyega. It was Boyega who posted some of the greatest insider party details to Instagram, like this photo of him posing next to what I'm imagining is R2-D2 in a drunken stupor.
Next came this hell-raising video of everyone dancing to "Turn Down For What," because their Saturday night celebrating Star Wars was such so much better than yours…
Intergalactic double-act Harrison and Hamill were spotted sneaking into the private party through a side entrance, the former walking crutch-free after his on-set accident, while the latter was devoid of the facial fuzz he sported throughout the shoot. Interestingly, Entertainment Wise also claims J.J. Abrams' long-time pal Simon Pegg showed up to the party, fuelling yet more speculation that he could have a small role in the film.
As for party favors, guests were allegedly handed out "VII" baseball caps in addition to sweet thank you notes from producers, yielding more information than anyone's been able to pry from Abrams thus far. Blood-stone anyone?
We guess we'll find out which of the rumored plot theories turn out to be true come Star Wars 7's release date on December 18, 2015.
Your Daily Blend of Entertainment News
Thank you for signing up to CinemaBlend. You will receive a verification email shortly.
There was a problem. Please refresh the page and try again.