Stephenie Meyer Confirms That Mackenzie Foy Will Play Breaking Dawn's Renesmee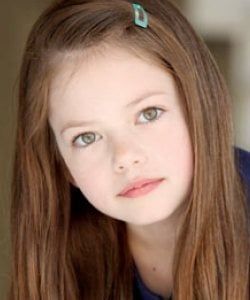 I'm still not sure how little Mackenzie Foy will ever get over having played a mutant half-human half-vampire baby who is Taylor Lautner's object of affection from the moment she's born, but as we reported last week 9-year-old Foy has in fact been cast to play Bella and Edward's daughter in Breaking Dawn. The confirmation comes via Facebook, where Stephenie Meyer herself wrote a note on the franchise fan page to welcome Foy on board. Here's the note in its entirety:
So there you have it-- one of the final cast members for Breaking Dawn has been set, so the movie can start shooting imminently as planned. I'm not going to talk about this much more in order to think less about the graphic, bound-to-be-terrifying birthing scene, so we'll just leave it at that.
Your Daily Blend of Entertainment News
Staff Writer at CinemaBlend