Steve Carell Chases A Kangaroo In Alexander And The Terrible Horrible No Good Very Bad Day Trailer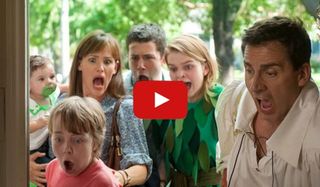 How do you adapt a children's book into something that parents will look forward to seeing as much as their kids? It doesn't hurt to have Steve Carell headline. That's the strategy Disney has taken with their upcoming live-action adaptation of Alexander and the Terrible, Horrible, No Good, Very Bad Day. In the video above, Carell not only introduces the trailer, but also gets up to all kinds of hijinks within it, capped off by chasing a kangaroo through the suburbs while wearing a pirate shirt. Why not?
Yahoo revealed the first trailer for Alexander and the Terrible, Horrible, No Good, Very Bad Day. Adapted from Judith Viorst's long-loved children's book, the film focuses on Alexander, an 11-year-old-boy who suffers through the ultimate bad day. Then, he sees his bad luck spread to his parents and siblings. But this family learns that if they stick together, they can make it through even the most terrible, horrible, no good, very bad days with a smile on their faces.
While Steve Carell plays the patriarch of this modern and comically afflicted family, Jennifer Garner co-stars as his wife and mother of Alexander. In the title role of the bad-luck plagued little boy is Ed Oxenbould. A relative newcomer Oxenbould's biggest credit to date is a series regular role on Australian television drama Puberty Blues.
Filling the role of Alexander's blessed brother Anthony is Dylan Minnette, who recently appeared in another movie about a family suffering through a tough time (admittedly a much tougher time), Denis Villeneuve's kidnapping drama Prisoners. Brothers & Sisters' star Kerris Dorsey plays Alexander and Anthony's sister Emily here. And last but not least in the role of baby Trevor, we've got twin girls Elise and Zoey Vargas who are make their big screen debut this week as the child of Rose Byrne and Seth Rogen in the R-rated comedy Neighbors.
You can get a look at the whole family below in this curious still:
If you paid close attention, you'll note this is the moment they get home and open the door to a crocodile. That fits in with the apparent theme of the father-daughter costumes here that seem to be Peter Pan and perhaps Captain Hook. But how all that--much less a kangaroo running wild through otherwise quiet suburban streets--remains a mystery for now. Future trailers should give us a fuller look at this family's wild misadventures, but to see them in full we'll have to wait until Alexander and the Terrible, Horrible, No Good, Very Bad Day opens on October 10th.
Staff writer at CinemaBlend.
Your Daily Blend of Entertainment News
Thank you for signing up to CinemaBlend. You will receive a verification email shortly.
There was a problem. Please refresh the page and try again.