Steve Carell's Undercover FBI Wedding Comedy Moving Forward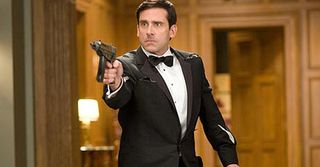 Since Steve Carell departed The Office nearly two years ago, he's circled around and become attached to around a dozen comedy ideas, and the few that have actually been released haven't quite been as big as he might have hoped. Crazy Stupid Love was pretty solid, making $84 million in the summer of 2011, but last summer's Seeking A Friend at the End of the World stalled at just $7 million, and his supporting part in Hope Springs didn't do much for that modestly successful comedy. Is it possible this extremely funny guy peaked with The Office?
Well, probably not. He's got three promising movies coming this year, starting with the upcoming magician comedy The Incredible Burt Wonderstone, leading into the likely summer release of Sundance hit The Way Way Back, and then culminating, of course, in Anchorman 2. Any one of those could make his movie career huge again, and he's got more than a few projects lined up to potentially capitalize on that. Among them will be what's being called the "untitled FBI Wedding comedy," which Deadline reports is now under new management, with David Flebotte writing the script. They're not sharing any details about the project other than it being in the vein of Stakeout and My Best Friend's Wedding, so I'm predicting some scenario where Carell is an FBI agent and has to attend a wedding for the sake of duty… and maybe his best friend is there? Just a guess.
Even though many of his movies haven't exactly caught fire in recent years, Carell is almost never the problem in them, and he's actually one of the best parts of The Way Way Back, which gives him the chance to play the kind of blow-dried jerk you might not expect from him. Seeing him return to play Brick Tamland in Anchorman 2 could be an interesting full-circle, back to a character he played right before he became a movie star on his own. Can Anchorman 2 be followed by another 40-Year Old Virgin-sized hit? From this vague description, the FBI wedding idea could easily do it.
Staff Writer at CinemaBlend
Your Daily Blend of Entertainment News
Thank you for signing up to CinemaBlend. You will receive a verification email shortly.
There was a problem. Please refresh the page and try again.